Meet the Gay Drama Teacher Who Responded to One Mom's Homophobic Comment Perfectly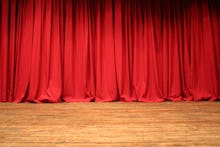 Michael Neri has a full-time job, but his passion is teaching drama to young people. Unfortunately, that sometimes means dealing with a negative parent.
Recently, Neri received a message from a parent who disenrolled their children from Neri's drama school, Talking Props, because she learned about his "lifestyle." The parent said she would not allow her children to be "influenced by unconventional ideas."
Neri stewed over the text for a couple of hours before composing a spot-on response, saying he would donate her non-refundable deposit to LGBT charity Stonewall.
"I was a little shocked to receive the text," Neri, who lives in Birmingham, England, told Mic. "I felt a little bit, I suppose, disheartened by it and that the decision had been made solely on something that wasn't about my professional capacity to teach." Neri said he only knew the woman from a couple of short conversations they had shared.
Neri began Talking Props Theatre School in September 2014 to provide children in his hometown of Kidder Minster the opportunity to study theatre in an environment he never had while growing up. 
"As a child, if I'd had something like [Talking Props], I would've flourished more than I ever could've hoped for," he said. "It's a safe haven for people to be able to come, be creative and be around people in a supportive environment." 
Neri said he contemplated over whether to reply, but was inspired by a U.S. photographer's reply to a customer with a similar complaint: a client would not be using the photographer's services because he shot same-sex weddings. It's then that Neri got the idea to donate the mother's nonrefundable deposit to charity. 
"It was such a clever and witty response, and I'm not a witty person," Neri said. "I'm not going to lie, it was brewing. I got the text early afternoon and it took me a good couple of hours to respond back."
In his response, he quotes Leviticus, asks if the mom's views are consistent across professions and invites the mom to see Talking Props' upcoming show. 
"I find that theatre without gays is like cooking without spices," Neri wrote in his response. 
Neri said he does not deny anyone their faith and knows a lot of Christian and Muslim parents who are more than O.K. with him teaching their children. He believes the mother who sent the text is also in the minority of Christians. Neri added that one of his teachers at Talking Props is Christian too. 
"When it comes down to my professionalism and my ability as a teacher, [religion] shouldn't be an issue," he said. "Either you believe in my ability to teach and you send your children or you don't." 
Neri said he did not anticipate the global response to his Facebook post, which he initially put up so other parents could see what had happened. But the overwhelming positivity made him see how small the world really is. 
"I've had messages from teachers in similar situations and it's been humbling to have that," Neri said. Neri tried to contact the mom who sent the text when he realized it was going viral, but she has not answered his calls. 
"I take a positive from all this, not a negative," he said. "I'm taking the love and everything that's coming from it, not the initial text I got from the lady."