Yet Another Person of Color Violently Ejected From Donald Trump Rally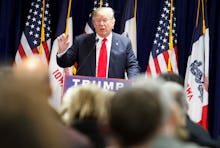 A person of color was again violently attacked at a Donald Trump rally, this time while the real-estate billionaire and Republican presidential candidate was addressing supporters in Birmingham, Alabama, on Nov. 21.
CNN's Jeremy Diamond captured footage of Trump supporters assaulting a black demonstrator who disrupted the candidate's speech chanting "black lives matter." Diamond wrote, "at least a half-dozen attendees shoved and tackled the protester, a black man, to the ground as he refused to leave the event. At least one man punched the protester and a woman kicked him while he was on the ground."
All of those attacking the man were white, and Trump shouted "get him the hell out of here!" to event security and attendees. Police did not arrest anyone involved. Diamond has since identified the man involved as 31-year-old Black Lives Matter Birmingham co-founder Mercutio Southall.
According to the Intercept's Juan M. Thompson, Southall says the attackers told him "go home, nigger."
In a follow-up interview with CNN, Southall compared the experience to a "lynch mob," saying they had also called him and fellow protesters "monkeys." He added, "I got punched in the face, I got punched in the neck. I got kicked in the chest. Kicked in the stomach. Somebody stepped on my hand."
On a Sunday call to Fox & Friends, Trump seemingly contradicted his own spokeswoman's statement that the campaign did not condone the behavior of those involved in the fight.
"Rough up?" Trump told the hosts. "Maybe he should have been roughed up because it was absolutely disgusting what he was doing."
"I have lot of fans and they were not happy about it," he continued. "And this was a very obnoxious guy, who was a troublemaker who was looking to make trouble."
Trump rallies have been the scene of violence or aggressive behavior in the past. In September, a white woman ripped up a Latino demonstrators' sign in Ames, Iowa. At two October rallies, white men spit in the face of a demonstrator and violently assaulted another Latino man who was holding one of the letters in sign that said "EQUALITY."
Trump has even seemed reluctant to criticize vigilantism, saying his supporters were "very passionate" and that they "love this country" after hearing two of them beat a homeless Hispanic man in Boston with a metal pipe.
It's obvious that there is some kind of link between Trump's dehumanizing rhetoric towards minorities and the fact that at least some of his supporters feel totally comfortable hitting and beating them. It's also clear Trump is not really bothered by that fact. In October, while being repeatedly interrupted by protesters, Trump told the crowd 
Update: Nov. 22, 2015, at 1:05 P.M.
This article has been updated to include additional reporting from CNN's Jeremy Diamond.