Al Roker Says a New York City Taxi Refused to Pick Him Up Because He's Black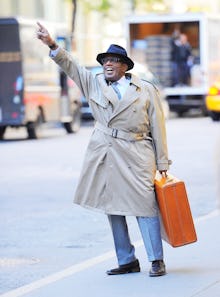 Even weatherman Al Roker, one of the most famous black people in the country, isn't immune to the effects of racism.
On Saturday night, Roker told his Twitter followers he had been passed by a cab in favor of a white passenger a block away — and it hurt even more because his 13-year-old son was with him at the time.
Roker says he simply told his son that they couldn't account for other people's ignorance.
"Service refusal goes to the core of the taxi industry's social contract with the riding public and it will not be tolerated," Taxi and Limousine Commission Chair Meera Joshi told the New York Daily News. "We're grateful that Mr. Roker took the time to file a complaint, and I can assure him that we will investigate this thoroughly and take every appropriate action."
Taxi discrimination is illegal in New York City. In August, a judge ruled a city cab driver who refused to pick up a black family should be fined $25,000.
Uber, the transportation app Roker credited for being more tolerant than some yellow cab drivers, often touts how its drivers are more accessible to under-served communities than other taxi options as a highlight of its services.