Democrats Just Attacked Republican Rhetoric on Islam Using the Last Person You'd Expect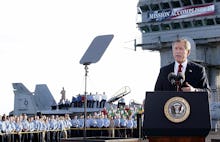 Hawkish rhetoric about Islamic extremist groups — and Muslims in general — has reached a fever peak in the week following a terrorist gun and bomb massacre in Paris on Nov. 13, which killed at least 130 people and wounded more than 350 people.
Within several days, 31 mostly-Republican governors signed off on orders saying they would refuse to cooperate with efforts to resettle Syrian refugees fleeing the Islamic State group, also known as ISIS, and others fleeing violence in the Middle East and Afghanistan. GOP presidential candidates attacked President Barack Obama's stance for not using the term "radical Islam," which the administration says would legitimize ISIS' claim to represent Muslims.
This week, the Democratic National Committee fired back. The DNC launched an ad titled "Inciting fear isn't presidential," juxtaposing clips of Republicans today using the term "radical Islamic terrorism" with clips of President George W. Bush saying "We do not fight against Islam. We fight against terrorism." 
"That's not what Islam is about," Bush says in one of the videos. "Islam is peace."
It's intended as a rebuke to the idea the U.S. is somehow at war with a religion. Current Republican primary front-runner Donald Trump briefly flirted with the idea of a mandatory database for Muslims in the U.S., while former Florida Gov. Jeb Bush and Texas Sen. Ted Cruz said the U.S. should only assist Christian refugees.
It's not necessarily a perfect comparison — before the Iraq War, an op-ed in the New York Times criticized Bush for portraying the invasion as part of a larger crusade. The Bush administration also portrayed then-President Bush as the only candidate capable of protecting the U.S. from Islamic terrorism in the 2004 elections, contributing greatly to his re-election efforts and ultimate win over John Kerry, the current secretary of state.
The intent, however, is not to endorse any of Bush's policies but to show the rhetoric being used by many U.S. leaders and political candidates today is even more extreme than the man who launched the United States' biggest incursion into the Middle East to date.
Whether or not Democrats will find much support attacking Republicans for using the term "radical Islam" is an open question, considering polls have shown the vast majority of voters have little problem with using the term to describe extremist groups like ISIS and al-Qaeda.