Louisiana Just Elected John Bel Edwards Governor in Surprise Victory for Democrats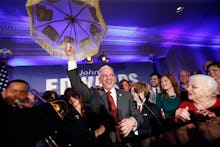 The Louisiana gubernatorial race has ended with a surprise victory for Democrats.
"Previously little-known" State Rep. John Bel Edwards (no relation to the other John Edwards) defeated U.S. Sen. David Vitter with 56% of the vote, reports the New York Times. He is the first Democrat to hold the office since Gov. Kathleen Blanco did not seek re-election in 2008 and will take over from current Republican Gov. Bobby Jindal. He is also the first Democrat to hold any statewide office since that year.
Edwards, whom the New York Times described as a "Catholic social conservative from a family of rural law enforcement officers who graduated from West Point and served eight years of active duty in the Army," won his hard-fought campaign in part by casting doubt on Vitter's ethics. Vitter has previously drawn allegations of ethics violations, as well as his involvement in a massive D.C. prostitution scandal in 2007 and the revelation his campaign was spying on one of Edwards' major donors this fall.
According to the Washington Post, the state sheriffs' association also took Edwards' side after Vitter accused him of planning to release 5,500 "thugs" from state prisons.
Until just a few months ago, Vitter was the clear favorite to win the race.
Both candidates ran on a platform rejecting Jindal's record as governor, which has left the state with a $500 million deficit.
The New York Times' Campbell Robertson also noted Edwards' success portraying himself as a Democrat at home with the state's culture and citizens.
The Washington Post also reported an acrimonious feud between Jindal, who recently ended his presidential campaign, and Vitter, whom Jindal refused to endorse, helped secure Vitter's political demise. (This account is backed up by a profile in the National Journal, which described the roots of the two men's "hate" for each other.)
Vitter is no longer seeking re-election to his Senate seat.
One of the biggest things that Edwards hopes to accomplish on his first day in office is accepting federal funding for Medicaid expansion, a move that would give impact medical coverage for 225,000 residents of Louisiana. Jindal rejected the funds during his second term.