Rihanna Just Launched a Cryptic New Website to Promote Her Upcoming 'Anti'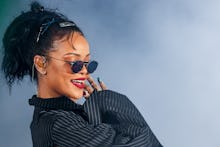 Rihanna is truly proving to be a master of mystery with her upcoming album release. At Sunday night's American Music Awards, a series of odd commercials punctuating the commercial breaks directed audiences to a website called AntiDiary.com, which again directs users to open the site on a mobile device. Fans wouldn't have been able to pin it to Rihanna save for a few snippets of "Bitch Better Have My Money" creeping through the static and disconcerting laughter.
Logging onto the site, fans will find a whole interactive world based on Rihanna's upcoming album, Anti. It's a hopeful sign for fans who have gotten nothing but rumor and speculation for the past few months. We finally have an album release starting to take shape — and yet, the more we learn about it, the more bizarre and opaque it seems.
In advance of the awards, Rihanna alerted fans to the launch a single cryptic tweet, which asked: "Are You In?"
The tweet's link leads leads into an interactive, virtual room. Users can hover over objects to uncover videos and images, each further embellishing the album's aesthetic. One object bounces the viewer to an external Instagram account for a user called "the keyholder," which has been posting Anti imagery since its launch Sunday morning. 
However, rather than clarifying the album's story, the media may only leave audiences with more questions.
Hovering over the room's ominous rocking horse brings up a video of a girl singing into a hairbrush and playing a piano — perhaps a young Rihanna, perhaps not.
Looking more closely at the drawings on the wall, one can see maps of the United States and a shot of a plane that seems to be heading to or from Russia.
Of course, the album's mysterious protagonist, the young child with the Braille crown who also appears on the album's cover, makes an appearance in one video to look on while the children play.
Rihanna created the album's characters and symbols in collaboration with Israeli artist Roy Nachum. In an interview with Vanity Fair, Nachum described the child with the crown as an "homage to [Rihanna's] roots," while the crown blinding her represents "success."
"Sometimes we're running in the world of today but we're running after achievement, after achievement," Nachum said, clarifying the success metaphor. "The crown is oversized and covering what we're supposed to see. We can't see the success." 
It appears the "bedroom" is just the first of eight rooms in the AntiDiary, including the "tattoo parlor" and "gallery," with the final room being the "anti bedroom." None of those chapters have release dates — and neither does the album — but there's likely a lot of madness to come. 
Check the first AntiDiary entry here.