Pentatonix Just Played an Epic 'Star Wars' Medley Backed By a Full Orchestra at the AMAs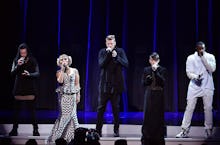 The force was alive and well at the American Music Awards on Sunday night. Introduced by Harrison Ford himself, the pop a cappella group Pentatonix performed a medley of songs from the Star Wars films to promote Disney's upcoming Star Wars: The Force Awakens. Backed by a full 75-piece orchestra, the performance captured every bit of the magic from the original score — with just a little added beatbox flair.
Pentatonix are reportedly huge Star Wars fans, and they brought that energy to the stage with them. The group opened with completely a cappella version of  "The Imperial March" before the orchestra stormed in for the full title theme.
"We were ecstatic when they asked us if we would be willing to work with John Williams' orchestra," Kevin Olusola, the band's beatboxer, told Rolling Stone. "Our background is in choral music, so this felt like a chance to revisit and re-study certain classical techniques. It sounds so amazing. Our fans are going to be geeking out, because a lot of them are choral students, and I think they're going to get a huge kick out of this."
Watch the full performance below: