Prince Charles Just Blamed the Syrian War on Climate Change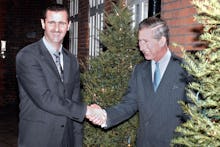 In an interview with Sky News scheduled to air Monday night, Prince Charles said he believes climate change is in large part what precipitated the Syrian civil war.
"There's very good evidence, indeed, that one of the major reasons for this horror in Syria was a drought that lasted for about five or six years, which meant that huge numbers of people in the end had to leave the land because their water ran out, their crops failed and so on," Prince Charles said in an interview that will air at 8 p.m. GMT across the United Kingdom. 
"And increasingly they came into the cities already full of Iraqi refugees from that horror and that crisis and this combined to create a very difficult situation."
"It's bad enough now with refugees," Prince Charles said, "but think about what it's going to be like, if we don't deal with the problem, which is actually helping to cause it. Because the conflict very often comes from movement of people as a result of not being able to survive."
If "we deal with the [problems] in a short-term way, we never deal with the underlying root cause, which regrettably is what we're doing to our natural environment," he said.
The heir to the throne has long espoused the need to address climate change. The interview comes as a precursor to his keynote speech during the Nov. 30 opening of the U.N. climate change conference to be held in Paris. The gathering, also known as the COP21, endeavors to prevent global temperatures increasing by more than 2 degrees Celsius (3.6 degreed Fahrenheit).
Belief in the relationship between climate change and global conflict has increasingly featured in mainstream political discourse. 
During the Nov. 14 Democratic presidential debate, the day after the Paris attacks, Vermont Sen. Bernie Sanders was asked whether he maintained that climate change remained one of America's greatest threats, as opposed to terrorism. 
"Absolutely — in fact, climate change is directly related to the growth of terrorism," Sanders said. "And if we do not get our act together and listen to what the scientists say, you're going to see countries all over the world — this is what the CIA says — they're going to be struggling over limited amounts of water, limited amounts of land to grow their crops and you're going to see all kinds of international conflict."
Yet despite this theory's increasingly established presence, there are still those who contend it is a tricky argument to make.
"If you want to show that climate change has contributed to an increase in civil violence, then you need to control for other factors," Andrew Solow, a senior scientist at Woods Hole Oceanographic Institute, told the Guardian.
"The factors influencing civil violence can be quite complicated and vary in complicated ways from situation to situation," Solow said. "It's like what [Tolstoy] said about unhappy families: They are all unhappy in different ways."
However, there appears to be little room for doubt on Prince Charles' mind. When asked about the same correlation, he said he "absolutely" believes there is a link between climate change and conflict or terrorism. 
"It's only in the last few years that the Pentagon [has] actually started to pay attention to this," he said. "I mean it has a huge impact on what is happening."