Trump's Last 96 Hours Include Stealing Neo-Nazi Tweets and More Anti-Muslim Rhetoric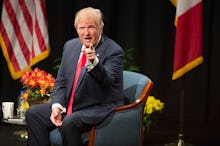 It's been a bruising 96 hours on the Republican presidential campaign trail. As voters start paying more attention to the GOP's shrinking roster of candidates, the party has found itself mired in new controversies and upheaval.
As it has many times in the past, the latest imbroglio involved front-runner Donald Trump. Since Thursday, the real estate magnate, who has spent months atop state and national polls, has promulgated neo-Nazi propaganda, called for national Muslim-tracking databases, claimed he saw New Jersey Muslims celebrating 9/11, suggested that a protester at his event deserved to be beaten and vowed to bring back waterboarding. 
It was a mouthful for any candidate — unless of course the mouth is that of Trump.
False, racially charged "statistics"
On Sunday, Trump posted a tweet about police violence that has been widely condemned as inaccurate.
Aside from the fact that 2015 statistics are not available since the year is ongoing, the numbers in the tweet appear to be grossly out of sync with the FBI's most recent crime reporting from 2014, according to the Daily Beast, which also points out that the sourced "Crime Statistics Bureau – San Francisco" is not, in fact, a thing. For example, while Trump claims 81% of whites killed are by blacks, the real percentage is 14%. Meanwhile, the percentage of "whites killed by whites" is actually 82.3% — far higher than the 16% number given.
In addition to being false, the numbers were first posted to Twitter by a neo-Nazi account, according to Little Green Footballs. It wouldn't be the first time Trump has posted Nazi content. 
Muslim databases 
Arguably Trump's greatest furor to date was caused by remarks made during an interview with Yahoo Politics. Trump told reporter Hunter Walker that in the wake of the terrorist attacks in Paris, the United States would have to implement "unthinkable" responses to ensure such an attack did not occur on U.S. soil. 
"We're going to have to do things that we never did before," Trump said. "And some people are going to be upset about it, but I think that now everybody is feeling that security is going to rule. And certain things will be done that we never thought would happen in this country in terms of information and learning about the enemy." 
When asked if that included Muslim-tracking databases, Trump said, "We're going to have to — we're going to have to look at a lot of things very closely." Furthermore, NBC reporter Vaughn Hillyard asked Trump at an Iowa campaign stop Thursday how such databases would be different than Nazi registries of Jews in the 1930s, to which Trump said "you tell me," before moving on.
New Jersey's 9/11-loving Muslims
In an attempt to justify his call for a Muslim database, Trump told a crowd Saturday in Birmingham, Alabama, he had witnessed New Jersey residents cheering from across the river as the World Trade Centers came down on 9/11. Speaking to ABC News' George Stephanopoulos, Trump doubled-down on the assertion. "There were people that were cheering on the other side of New Jersey where you have large Arab populations," he told Stephanopoulos. "They were cheering as the World Trade Center came down. I know it might be not politically correct for you to talk about it, but there were people cheering as that building came down — as those buildings came down, and that tells you something. It was well covered at the time."
PolitiFact, the Tampa Bay Times' Pulitzer Prize-winning fact checking project, rated the claim "pants on fire" — reserved for the most egregious falsehoods — saying Trump's story "defies basic logic."    
Black Lives Matter
After infiltrating the same Trump rally Saturday in Birmingham and interrupting him onstage, Black Lives Matter activist Mercutio Southall Jr. walked into a hornet's nest. Almost immediately, Southall was attacked by the crowds. CNN video appeared to show numerous people kicking Southhall while a Washington Post reporter heard a woman shout, "don't choke him." 
Throughout the ordeal, Trump was unflappable. "Get em' out of here," he said from the lectern to applause. Speaking to Fox News Sunday, Trump defended the behavior of his supporters. "Maybe he should have been roughed up because it was absolutely disgusting what he was doing," he said. "This was a very obnoxious guy, who was a troublemaker, was looking to make trouble." 
Waterboarding
The Bush era's "enhanced interrogation technique" that has widely been denounced as torture, would "absolutely" return in a Trump administration, Trump told ABC. "I think waterboarding is peanuts compared to what they do to us," said Trump. "What they're doing to us, what they did to James Foley when they chopped off his head, that's a whole different level, and I would absolutely bring back interrogation and strong interrogation." During his own successful campaign for the Republican nomination in 2007, Arizona Sen. John McCain reminded supporters that the United States had executed Japanese war criminals after World War II for crimes that included waterboarding, a claim that PolitiFact rated as true.
As usual, Trump has left Republican voters with plenty to chew on, as the candidates gear up for their next debate on Dec. 15. 
Get the news everyone's talking about delivered straight to your inbox every morning by signing up for MicCheck Daily.