New Orleans Playground Shooting Leaves 16 Hospitalized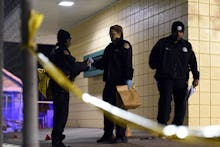 A shootout Sunday night at a city park in New Orleans, sent at least 16 people to the hospital and hundreds more to flee the area, according to reports. Eyewitnesses say at least two men were armed during the public event, which USA Today reports was a music video taping with nearly 500 attendees.
"At the end of the day it's really hard to police against a bunch of guys who decide to pull out guns and settle disputes with 300 people between them," New Orleans Mayor Mitch Landrieu told reporters in a Sunday night press conference. "It's not something you can tolerate in the city."
The shootout occurred in the Upper Ninth Ward's Bunny Friend Park around 6:15 p.m. local time, the Times-Picayune reported. The music video taping followed the Nines Times Social Aide & Pleasure Club's second annual second line, a type of traditional New Orleans parade, where attendees dance and sing along to music in the streets. Witnesses told the Times-Picayune that when first responders came onto the scene, victims were lying on the ground in the park. New Orleans Police Department Superintendent Michael Harrison described music video taping as an "unpermitted event" that was likely organized through social media. USA Today reports all victims from the shooting are in stable condition.
A man was seen by several eyewitnesses with a silver machine gun fleeing the scene, though gunfire was still reportedly heard as the assailant fled the scene, according to the Times-Picayune. No suspects have been identified, and there is an ongoing investigation to try and locate those responsible for the shootout. 
"This is a classic case where we need citizen help," Harrison said at the press conference. "People know who did this. We need them to come forward and tell us so we can bring these people to justice."
CBS New Orleans medical reporter Meg Farris was on the scene and live-tweeting updates:
Correction: Nov. 23, 2015