A Little Boy Stood Up To A Catcaller In The Best Way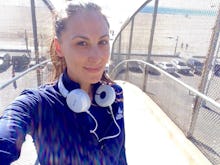 Musician Julia Price experienced something last week that the majority of women in the United States have also confronted: street harassment. While on a routine run in Santa Monica, California, Price heard a man yell, "Sexy lady, hey hey hey sexy lady!" she wrote Wednesday in a Facebook post. Like many women before her, she ignored her harasser — that is, until he lashed out, calling her a "dumb bitch." But before she could respond, she found she was already being defended by the unlikeliest of allies.
"That is not nice to say to her and she didn't like you yelling at her," a little boy passing by with his mother and sister told the harasser, according to Price. "You shouldn't do that because she is a nice girl and I don't let anyone say mean things to people. She's a girl like my sister and I will protect her." 
When Price thanked the little boy, whose words encouraged the harasser to leave, he simply replied, "I just wanted to make sure your heart was OK."
"To have (for the first time in my life) someone actually stand up to a catcaller on my behalf, let alone a child, I was beyond moved," Price told MTV News on Friday, adding she hopes "men and women can continue to come together" to combat harassment.
While the boy should serve as a role model to men who want to support women and combat street harassment, it's worth noting his reasoning for doing so — that Price was a woman like his sister who needed defense — is ultimately a necessary one to move past. The argument that women who are harassed could be men's wives, mothers, sisters or friends is frequently used to encourage men to intervene, but doing so reinforces what Feministing's Maya Dusenbery has called "the gender empathy gap": While women are trained to empathize with others no matter what, men must feel doing so directly, negatively effects them too. 
As Stassa Edwards wrote in Ms. in 2013, teaching boys that only women to whom they are related are "worthy of being treated as human beings" also detrimentally implies that "those who are not family are subhuman and therefore deserving of their own victimization."
Yet 65% of women in the United States say they have been street harassed, according to a 2014 report by the organization Stop Street Harassment. They also experience this at young ages. One 2015 survey conducted by the anti-street harassment organization Hollaback! and Cornell University found that 85% of U.S. women experience street harassment before age 17, and 67% of women do so before age 14. Given this reality, teaching men not to harass isn't enough. They also need to call it out when they see it, according to advocates.
No matter the role the boy plays in Price's story, that she chose to share an experience with harassment at all is an act of empowerment as well.
"There is a lot of victim-blaming and shame when it comes to street harassment," Holly Kearl, author of the book Stop Global Street Harassment: Growing Activism Around the World, told Mic in September. "But when we read or hear others' stories and realize that we're not being singled out, that it's happening to so many other people, we often find the strength to speak out and challenge it."
h/t Cosmopolitan