#BrusselsLockdown: Twitter Responds to Belgium Terrorist Threats with Cat Memes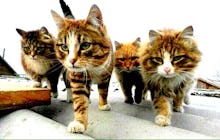 During a citywide lockdown in Brussels over the weekend in response to terror threats, police asked social media not to spread information about the operation — so instead, the people of Brussels are using the hashtag #BrusselsLockdown to tweet cat memes, showing terrorists that their threat is no match to a virtual army of cute kitties. 
When Belgium's capital was put on maximum security alert Saturday in response to a potential terrorist attack, ABC reported, people in the city tweeted pictures of scenes from the operation including roadblocks and guards with the hashtag #BrusselsLockdown. The federal police requested in a tweet Sunday that radio and social media stay "silent" regarding details of the operation while it was underway. At least 16 people with possible ties to terrorist activity have been arrested since the police raids began, the BBC reported. 
The plea sparked a flood of cat pics on Twitter because, well, such is the nature of the Internet. Cue the cat memes:
On Monday, the police offered food via Twitter "for the cats who helped us" during the operation.
Public entities throughout Brussels remained closed Monday while officials conducted an operation to find terrorists who they fear pose an imminent threat to Brussels. The heightened alert follows the Nov. 13 Paris attacks that left at least 130 people dead, CNN reported.
Get the news everyone's talking about delivered straight to your inbox every morning by signing up for MicCheck Daily.