Here's How to Download and Stream Foo Fighters' New EP 'Saint Cecilia' After Countdown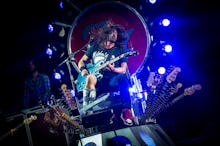 A month ago, the Foo Fighters launched a cryptic countdown to midnight Monday via their website. When the clock ran out early Monday morning, they released a free five-track EP, Saint Cecilia, an album lead singer Dave Grohl dedicated to victims of the Paris attacks via an open letter on the site. 
"I felt the need to write this foreword in light of the heartbreaking tragedies of Nov. 13th, as this project has now taken on an entirely different tone. As has everything, it seems..." Grohl wrote in the Nov. 19 letter. "Now, there is a new, hopeful intention that, even in the smallest way, perhaps these songs can bring a little light into this sometimes dark world."
Saint Cecilia, available to download, stream or pre-order vinyl on the band's site, was recorded at Hotel Saint Cecilia in Austin, where the band was performing at Austin City Limits. Grohl said the EP "is a celebration of life and music." 
"The road-tested band blasts through the set of scrappy guitar-driven rockers with high-volume fury," it says in a description of the impromptu album on iTunes. "Polished? No way. But the rowdy performances and rough edges make Saint Cecilia pack a visceral punch."
Saint Cecilia can be streamed on Spotify and Apple Music. 
The artwork features an image of St. Cecilia, the Bible's "patroness of music."
The remainder of the band's European tour was canceled in wake of the Paris attacks on Nov. 13, Consequence of Sound reports. Grohl addressed the matter in his letter. "To all who were affected by the atrocities in Paris, loved ones and friends, our hearts go out to you and your families," he wrote. "We will return and celebrate life and love with you once again someday with our music. As it should be done." The Foo Fighters encourages fans to donate to families of victims of the Paris attacks via the Sweet Stuff Foundation.