This Museum Just Launched a Modern Native American Fashion Exhibit, and It's Stunning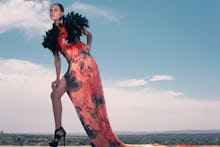 There used to be a water park on the reservation where Jamie Okuma grew up, in the San Diego region. The park's water slides served as homes to swallows that would build their nests there before they would inevitably tumble down with baby birds inside.
"So I'd go and scoop them up and take them home to raise them," Okuma, a Native American fashion designer from the Luiseño and Shoshone-Bannock tribes, told Mic. 
For years, Okuma and her family cared for countless swallows until they became a rarity in the area. Still, that period has remained an inspiration for Okuma's fashion designs. Which is why, when the Peabody Essex Museum in Salem, Massachusetts, commissioned her to design something for its Native Fashion Now exhibition, Okuma looked to her childhood.
The final commissioned piece was a pair of knee-high boots adorned with thousands of tiny glass beads covering every inch of material except for the soles. Swallows appear mid-flight against a blue backdrop.
Okuma joins more than 70 Native American designers for Native Fashion Now, the first large-scale traveling exhibition of contemporary Native American fashion. The landmark exhibition, which opened to the public on Saturday, contains nearly 100 pieces dating from the 1950s onward, and it examines the diversity of current Native American designers, whose heritage and culture has greatly influenced the fashion landscape but so rarely receives mainstream recognition.
The show is split into four themes, based on where the designers fall on a spectrum of modern Native American design: "Pathbreakers," "Revisitors," "Activators" or "Provocateurs." 
"The names of the themes emphasize the artists' roles in this design process," exhibition curator Karen Kramer told Mic. The goal is to give the artists agency over their creative vision instead of listing them chronologically, she said. The result is a statement that Native fashion items aren't just relics from the past to be placed easily on a timeline. Indeed, most designers are still working and creating. 
That may come as a surprise to many.
Native American fashion is happening now, not in the past. 
"The amounts of emails and letters I still get from around the world is insane, just because people are like, 'Wow, I didn't even know... Native Americans, they still even exist,'" Patricia Michaels, a Native American designer from Taos Pueblo, New Mexico, told Mic.
Michaels is famous for being the first Native American contestant on Project Runway in 2013 and, consequently, the first Native American designer to show at Lincoln Center for Mercedes-Benz Fashion Week in New York City. One of Michael's shift dresses from Project Runway is displayed at the exhibit's entrance, beneath a ceiling decorated with parasols crafted by her partner, James Duran. The parasols, abstract shapes resembling flower petals, are "a physical embodiment of prayer and a connection to the natural world," according to a blog post on the Peabody Essex Museum's website.
The exhibit encompasses a wide spectrum of designs with varying degrees of Native American influence. There may be a silk scarf with syllabics from the Cherokee language printed on them, or sleek jewelry made out of traditionally esteemed materials like copper. While some designs rework common motifs like buckskin, fringe and beading, much of the work is more symbolic or interpretive, like skateboards painted with Native American line art.
These are just a few of the current examples of a living, breathing Native American presence that includes more than 500 different tribes and nations. Ultimately, exhibiting these designers' work gives credence and helps legitimize a community that's been largely overlooked in fashion and American culture at large.
"This is a conversation [about Native Fashion] that hasn't happened in the fashion industry," Michaels said, adding that the beauty of the exhibit is that it includes far more than one region or tribe. "Nobody's really tapped into that culture in the way we have right now."
The exhibit represents a growing fashion movement.
Assembling an exhibit focused exclusively on modern Native American work wasn't easy, Kramer said. There isn't a go-to directory or history book detailing Native designers over the years, and many operate on a small, local level. But Kramer caught wind of this growing pool of artists when she saw more fashion designers participating in the Santa Fe Indian Market in New Mexico, an annual art show. 
Sensing "a movement afoot," she began seeking works from established and rising Native American designers who varied in gender and geographical location for an exhibit.
"It was just the right time," Kramer said. "The stars aligned, and we committed ourselves to doing this exhibition that is just as much about celebrating Native American creativity as well as it is an exhibition celebrating fashion."
A lack of funding and resources to propel designers to the national stage has limited many Native American designers in the past, designers in attendance told Mic. These days, though, many designers have more agency over how they distribute their work online, especially on social media. The result is a new audience that's becoming more familiar with Native fashion. 
It was only a matter of time before a museum picked up on the growing interest, Michaels said. 
"There's layers upon layers of getting here that still hasn't sunk in," she said. "A lot of the garments you see here are built upon new life, new generations, new material. We've always been evolving. We've always been moving forward. In that, you can't erase that kind of energy."
The Native American aesthetic can inspire without being appropriated.
Despite the growing number of designers ripe for the spotlight, when she first learned about the exhibition at Peabody, Michaels said she was nervous.
"I was in fear that maybe there might be some simple focus on misrepresentation or appropriation of American Indian culture, but I think what's nice is I'm feeling a conversation of where we're at now," she said. "We're not having to drag along past issues."
Those "issues" Michaels refers to tend to dominate the conversation about Native Americans and clothing, as fashion designers and regular folks alike reduce "Native American" to costume-like elements that lack a deeper understanding of history and culture. Some traditional designs are embedded with meaning, reserved for particular ceremonies or designations of an individual's status.
For example, feathered headdresses or "war bonnets" hold a sacred value and are reserved for certain honored individuals. Seeing them worn in music festivals or on fashion runways by those who don't understand or respect that meaning is like watching someone jokingly parade around in military regalia without having earned the honor in battle, some Native American artists say.
But it can be OK to be influenced by the Native American aesthetic, Kramer said, and the exhibit aims to tackle that nuance.
"You see this on the runways every fall and spring," Kramer said. "We wanted to complicate the landscape of cultural borrowing [and] open the conversation on cultural appropriation and misappropriation of these non-Native pieces."
That's why three works by non-Native individuals were included in the show, Kramer said. A fitted "totem-pole" dress by Isaac Mizrahi, a sweater by Ralph Lauren featuring Navajo-inspired designs and an outfit styled by Iris Apfel that features Native American jewelry — all three were presented as examples of incorporating Native influences in a respectful, positive way. 
At the heart of the issue is who profits from designs that are clearly Native in origin, when they rarely include the input of Native Americans or benefit the indigenous communities that inspired them. The designers who spoke to Mic at the opening day of exhibition on Nov. 21 said it's about being respectful and contributing in some way, often by giving recognition to what inspired the design. 
What it comes down to "common sense sensitivity," Okuma told Mic. In fact, of the handful of designers at the exhibit last weekend, it seemed like most were just tired of having the cultural appropriation conversation at all.
"Native American fashion" means something different for every designer.
Instead, the designers were far more interested in showing people that Native culture is very much alive and well. 
"Wampanog people are still very much here, indigenous people are still very much here," Jonathan James Perry of the Wampanog Nation told Mic. "[We're] working with this system today that allows us to express ourselves in modern creative ways but still carry those important stories and information that have been passed down from our ancestors." 
That history and lineage makes its way into Perry's work, including necklaces made from copper, a precious material his ancestors valued more than gold. For others, the Native inspiration is entirely contemporary, like Jarred Yazzie's T-shirt featuring block lettering proclaiming "Native Americans Discovered Columbus."
Native American iconography has long been a part of street culture, Yazzie, a Navajo designer, told Mic. For a 26-year-old designer like himself, T-shirts and screen printing offer a simple but clear way to make people rethink their history. "It's something powerful, and it's something truthful and it's something quick," Yazzie said.
Yazzie said he feels young among the designers in exhibition, but seeing the circle of designers together at the museum this weekend made him think of the big family gatherings in his own community. 
"We're going to see each other again because we're always going to be pushing our material," he said. "We're always going to be doing art, because it's kind of embedded in us."