These Are the Latino Emojis That We've Been Waiting For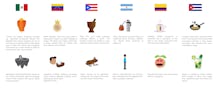 It all began with a taco. You know the one. When Apple released brand new emojis in September, the new keyboard included not only brand-new emojis, but the option to give emojis a variety of skin tones. The taco emoji, more than anything, was indicative of an opportunity to to express a user's identity.
That's what caught the attention of a worker at Miami's Spanish-language agency Zubi Advertising, who was trying to convey to a non-Spanish speaking staff member the many ways Latinos communicate, and ultimately led an effort to create a whole host of Latino emojis.
"[The app] really came from what we saw as a void for emojis that really represented our community," Michelle Zubizarreta, chief administrative officer at Zubi, told Mic. 
A few weeks later, the agency thought of flags, phrases and foods from seven countries — Argentina, Colombia, Cuba, Mexico, Puerto Rico and Venezuela — represented on Zubi's staff. They released the app, which includes over 270 emojis, for iPhone and Android. Some of the emojis include several iterations of Salsa queen Celia Cruz, Latino cure-all Vicks VapoRub, arepas and a platano. 
The process was natural and collaborative, according to Zubizarreta. "They started doing arepas or the Colombian flag or the Venezuelan flag, then it started to grow. 'Let's do folkloric things!' 'Let's do sayings, let's do food!'" she said. 
And that collaboration continues. Now that the app is out in the world, people have begun to ask for specific foods and icons that the app should add. "One person asked, 'What happened to the croquetas?'" Zubizarreta said. "There are already people on our Facebook and our website telling us which ones are missing. It's really become a conversation." 
The next steps in that conversation include creating emojis that represent traditions in Uruguay, El Salvador and the Dominican Republic. 
Zubizarreta said that having Latino emojis is extremely important as texting is becoming the near-dominant form of communication, especially for young people. She pointed out that even something as simple as seeing Latino foods represented on the keyboard can be positive for Latino users. 
According to Zubizarreta, the emojis can help fill in the gaps for Latinos who text and are trying to communicate via text something that's more easily communicated in person. Until now, Zubizarreta said, that option has not been available to Latinos past the image of a taco. 
"Even if it's just the food emoji, it's just a flavor, kind of like the way we communicate," Zubizarreta said. "It's like telling us to talk without our hands — and we really can't do that." 
Latino Emoji is available for free on Google Play and in the Apple App Store.