New 'Star Wars: The Force Awakens' Footage Premieres at American Music Awards — Watch Here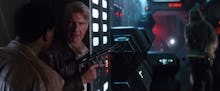 During Sunday night's American Music Awards, hosted by Jennifer Lopez and featuring performances from Justin Bieber and Coldplay, a cappella group Pentatonix performed a Star Wars-themed set following newly released footage from the forthcoming Star Wars: The Force Awakens. The film, directed by J.J. Abrams, is slated for release in the United States on Dec. 18. 
"Many of you know composer John Williams' name, but one thing is for sure, all movie fans know of his music," actor Harrison Ford said to the crowd Sunday night while introducing Pentatonix, who performed a tribute to the film's musical composer. Williams created the main theme song for the film, not to mention other popular film soundtracks.
Though the new commercial shows mostly already-seen scenes from The Force Awakens, several seconds are new, and that's just what any die-hard Star Wars fan needs to get excited. The latest addition to the Star Wars franchise stars John Boyega, Daisy Ridley, Adam Driver, Oscar Isaac, Andy Serkis and Lupita Nyong'o, Collider reported.
Watch the latest 30-second commercial for the upcoming Star Wars: The Force Awakens below:
In anticipation of the next Star Wars film, Google is allowing users to personalize their mail accounts and other applications with custom animations and designs based on the new film. Check out google.com/starwars to find out how to personalize your Google experience.