The Weeknd Performs "The Hills" at the AMAs — Watch His Performance, and Others, Here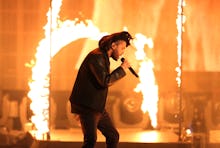 The Weeknd gave a fiery performance at the 2015 American Music Awards on Sunday — literally. 
Clad in black and white, the Weeknd (real name Abel Tesfaye) performed his hit single "The Hills" on a stage engulfed in flames. The spectacle had Justin Bieber in a trance and Meghan Trainor rocking out like her own jam just came on in the car. 
For his part, Bieber eschewed fire for rain — again, quite literally — during his performance of "Sorry." A number of other big-name artists gave noteworthy AMA performances at the Microsoft Theater in Los Angeles, including Selena Gomez and Ariana Grande. Celine Dion made a touching tribute to the Paris attacks with a rendition of Edith Piaf's "Hymne a L'amour" (Ode to Love), and the a cappella group Pentatonix performed a Star Wars tribute.