Thanksgiving Week 2015 Travel Conditions by Region and How to Check Flight Delays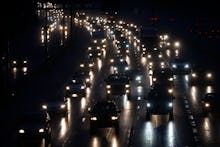 At least 46.9 million Americans are expected to take part in the annual Thanksgiving holiday trek, when friends and family travel across far and wide to be together by Thursday night, not to mention the shopping madness that ensues shortly after. Luckily for most, ice and sleet won't be issues while traveling this year. However, harsh conditions could take a toll on commuters in the west, according to AccuWeather.
"We expect another large storm to roll from the Pacific and expand toward the Rockies during the week of Thanksgiving," AccuWeather Senior Meteorologist Brett Anderson said in a report published Friday. "The exact strength and timing of the storm is still uncertain."
Slow going for parts of the Northwest: Though many parts of the U.S. will experience mild temperatures and normal traveling conditions during Thanksgiving week, the west — including regions of the Cascades, Sierra Nevada and the Rockies, as well as Montana and Wyoming — could experience heavy snow and slippery roads throughout sections of interstates 15, 25, 70, 80 and 90, according to AccuWeather. The major cities most likely to be hit by the forthcoming storm, which could hit the western U.S. from Monday through Wednesday, include Seattle, San Francisco, Salt Lake City and Denver. 
However, if the storm pushes southward instead, excessive rain could drench Southern California, providing some much needed rainfall to the drought-stricken area. Arizona, New Mexico, Los Angeles, Las Vegas and Phoenix could also be impacted by the storm if it does take a southern trail. 
Easy travels in the Northeast: Those in the northeast can release a collective sigh of relief, as temperatures and conditions are expected to be fairly normal throughout the week. Massachusetts Live reports temperatures in the 50s on Thanksgiving day, as well as an easy commute for those traveling during the holiday week: No local interstates have reported delays or lane closures over the week. Anyone searching for live updates on delays and interruptions in interstate traffic can visit the Federal Highway Administration website.
Storms are also brewing across the Atlantic Ocean throughout the week, though experts believe those will stay primarily above water during the Thanksgiving holiday. Florida will be hit with substantial rainfall over the week, though it isn't likely to cause major delays or interruptions in travel. 
No airlines have announced major delays for the week, and conditions throughout the week seem clear, though thunderstorms could form across Texas and Oklahoma. Travelers flying in the coming days can visit the Air Traffic Control System Command Center's flight delay site to find live information on delays as well as updates on weather conditions impacting travels.