Eddie Murphy Receives Mark Twain Prize and Brings Down the House During Acceptance Speech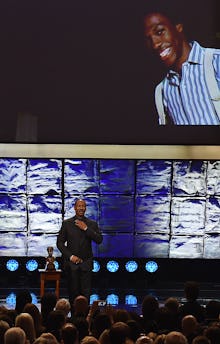 Comic legend Eddie Murphy brought down the house in October during his acceptance speech for the prestigious Kennedy Center's Mark Twain Prize for American humor. The ceremony, which airs Monday on PBS, marks the comedian's big return to stand-up after 28 years away from the mic. 
A teaser published by NPR on Monday revealed additional information one of the evening's highlights: Murphy's devastating impersonation of Bill Cosby. During the routine, Murphy speculated about what it might be like if Cosby were forced to return his own Mark Twain Prize, which he was awarded in 2009. 
"I would like to talk to some of the people who feel that I should give back my trophies," Murphy belted as Cosby, according to NPR. "You may have heard that I allegedly put the pill in the people's chocolate."
Details first appeared online after Murphy's performance back in October. The brutal takedown of Cosby was a departure, for the 54-year-old comic previously refused to make fun of the elder comedian, who has been accused by dozens of women of rape and sexual assault. 
"There's nothing funny about it. If you get up there and you crack jokes about him, you're just hurting people. You're hurting him. You're hurting his accusers," he told the Washington Post about his decision not to poke fun at Cosby during an appearance on Saturday Night Live's 40th anniversary show earlier this year. "I'm coming back to SNL for the anniversary, I'm not turning my moment on the show into this other thing."
According to the Post, the change of heart occurred after a discussion with fellow comedian Chris Rock and Arsenio Hall shortly before the performance. "[Eddie] said, 'Because Cosby gonna get sick of this soon, he's gonna get sick of people hating, and eventually he's gonna have to say something,'" Hall said, the Washington Post reported. "And we were like, 'That is funny, man. Are you willing?'" 
In addition to Cosby, Murphy joked on a lighter note about how the honor typically went to much older comedians and about how he would have preferred the award come with a cash prize. 
The full show will air tonight at 9 p.m. Eastern. Watch a clip here: