Your Macy's Thanksgiving Day Parade 2015 Guide to Route, Map, Start Time and Performers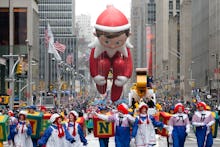 The highly anticipated annual Macy's Thanksgiving Day Parade kicks off in New York City on Thursday, featuring floats and stands celebrating some of the most iconic figures from years past but also contemporary history, from Spongebob Squarepants to Santa Claus. The colorful tradition begins at 77th Street and Central Park West and airs on NBC beginning at 9 a.m. Eastern.
Here's everything to know about the 2015 Macy's Thanksgiving Day Parade, including the route, map and who's performing.
Millions will watch: The holiday parade, which began in 1924, is celebrating its 89th year and is set to be another exciting year of music and surprises. According to the parade's website, at least 50 million people watch the Macy's Thanksgiving Day parade from their homes across the United States. Nearly 3.5 million people attend the parade in New York to watch the heaps of floats take to the streets, along with dancers, balloons and marching bands. Some of the earliest viewers of the parade typically begin camping out at 6 a.m. Eastern to catch the best glimpses of the floats as they head toward downtown New York City.
A star-studded lineup of performers: Each year, the Macy's Thanksgiving Day Parade offers a lineup featuring some of the biggest names in the music industry, with 2014 including Nick Jonas, Hilary Duff and William Blake, not to mention the acrobats of Cirque du Soleil. Among those performing in the parade Thursday include singer Jordin Sparks, R&B artist Trey Songz, newcomer Andra Day and the Grammy-winning rock band Train.
Macy's Thanksgiving Day Parade route map: Participants will parade along Central Park West, heading south toward Columbus Circle, before veering along Central Park South and Sixth Avenue. The parade route then heads south toward 42nd Street. The parade ends in front of the Macy's location at Herald Square. An expanded map can be viewed online. 
Visit the Macy's Thanksgiving Day Parade website for further information.
Last year's parade featured Dora the Explorer, Thomas the Tank Engine and several other crowd and family favorites. Check out photos from the 2014 Macy's Day Parade below: