Wal-Mart's Cyber Monday 2015 Best Deals, Discounts, Ads and More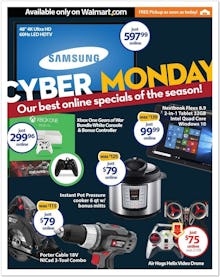 Retail giant Wal-Mart released its nine-page Cyber Monday ad on Monday, and it's stacked with deals upon deals that bargain shoppers can take advantage of without having to leave their couches. Starting Sunday, shoppers can peruse Wal-Mart's Cyber Monday deals and "save big" on everything from winter gear, tech gadgets, Adele's new album, furniture and more. Here's an idea of what Wal-Mart is offering and when to shop.
Wal-Mart will offer 2,000 online-only deals for Cyber Monday starting at 8 p.m. Eastern Sunday, Reuters reported — 1,500 more deals than it offered last year. 
Here's a look at a few pages from Wal-Mart's newly-released — not to mention hefty — Cyber Monday ad:
Advertised among its "best online specials of the season," Wal-Mart is selling a 48-inch Samsung HDTV for $597.99 and the Xbox One for $299.96.
Adele fans can snag the vinyl of her new album, 25, for $21, and Harry Potter fanatics can purchase the complete film series on Blu-ray for $44.96.
Shoppers can purchase a nostalgic popcorn maker for $139.99 or a minimalist black futon for $99.
Cyber Monday is an online discount holiday that falls on the Monday after Thanksgiving and Black Friday each year. Many online retail brands offer special sales on their websites starting the early hours of Monday and lasting throughout the day.