Dee-1 Shares Open Letter and Song Seeking End to Gun Violence After His Student's Death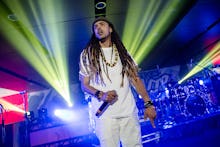 Earlier this year, former educator and current Louisiana rapper David "Dee-1" Augustine Jr. experienced an unimaginable tragedy: He learned one of his former students had killed another one of his former students in a violent confrontation. The news shook Augustine to his core, but the ways he's been exploring it in verse have been making waves.
In October, he released a video memorializing the moment for a song called "My Student Got Murdered (Both Sides of the Gun)." "I know the killer, I know the victim, I'm so confused my head hurt," he spit. The song got picked up by some of the biggest hip-hop blogs, like the Source and the Smoking Section, which praised the way the song springboards from a senseless act of violence to make a powerful statement on gun violence and the prison industrial complex.
On Monday he added another chapter to this ongoing narrative, bringing it back to the students hit hardest by this tragedy, by sharing an open letter on his Facebook.
In the post, the rapper lets his students know that though he's sharing their story with the world, he hasn't forgotten who needs the most support making sense of this tragedy.
"I am here to say do not be discouraged by what's going on around you," Augustine wrote, calling himself Mr. Augustine for his former students. "You are living in a world that has been rigged to distract you. You are living in a time where you are faced with more real life trials and tribulations than teens before you. I know your heart's desire is to do good, but everywhere you turn there there is another trap."
In the post, Augustine shares empowering advice for how his former students should look to avoid getting derailed by moments like this. 
"[C]elebrate your successes and be proud of your accomplishments, no matter how small or large," he wrote. "Find something positive in your life to smile about."
They're the kind of messages Augustine got into hip-hop to try to share, as he told Mic in a conversation surrounding his letter and song.
"I'm a numbers guy," he told Mic. "I was a teacher because I thought that's where I was needed. Every day I was in the classroom I felt more like a motivational speaker than a teacher. I'm connecting with these students on levels way deeper than the subject matter I'm teaching. That's how I look as a rapper, as an opportunity to be a therapist, to be a counselor, to be a mentor, to be a brother, to be a father figure all in one."
Augustine said filming the video for "My Student Got Murdered" was one of the most difficult things he has had to record since starting his career four years ago. Watching the actors reenact that fateful shot, he kept his composure. "The part that got to me was when I was sitting in the living room, having to reenact my learning the news," he said. "Honestly, I broke down crying to be real with you."
This raw emotion is what Augustine is seeking to capture with the song. "This is a lot of people's reality, in present tense, every day," he said. "I want people not to be desensitized to this violence in the hood, which we can easily become so numb to."
The letter presents an opportunity to bridge this gap and reattach the song back to those lives that were changed forever by this incident of violence. Augustine said he hopes his students will follow the advice he offers, however, he's keeping his expectations appropriately tempered. 
"Once you expose someone to the truth, they might not choose to follow it, but they can't ever deny that they witnessed it," Augustine told Mic. He said he definitely did not listen to all the "pep talks" he received while he was growing up. All those words still sat in the back until he was ready to understand what they meant. He's still paying back his own mentors and knows it will be some time until he sees the impact of his own words. "The payback will come in the most unexpected form," he said. "But I don't want to be addicted to the payback. I want to be addicted to putting out truth."
Watch the "My Student Got Murdered (Both Sides of the Gun)" video below, and keep a look out for Dee-1's upcoming project I Fight coming early 2016.