Thanksgiving 2015 Food Drive Locations and How to Donate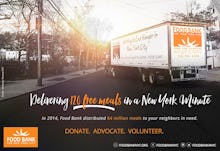 Thanksgiving can be considered a holiday of consumption between the gluttonous food overload and Black Friday shopping, but the holiday of thanks is a good time to give back. Organizations nationwide run a multitude of food drives year-round and often amp up efforts during the holiday season. Here's how to find local food drives to volunteer or give food at in the spirit of Thanksgiving. 
A plethora of non-profit organizations ask for donations during Thanksgiving and provide a list of food drive locations on their sites for people interested. The non-profit hunger-relief organization Feeding America provides food bank locators on its site and major cities including New York, Los Angeles, Chicago and Austin all have their own organizations. 
Feeding America: The hunger-relief organization allocates more than 3 billion meals to those in need each year, according to the site, and has 199 food banks nationwide. A food bank locator on its site allows givers to search for a local food bank based on zip code or city. 
The organization also takes monetary donations on its site and says that each $1 donation allows Feeding America to distribute 22 meals. 
New York: In the spirit of Thanksgiving, an "generous supporter" will match each monetary donation to the non-profit organization Food Bank for New York City, according to the site. 
Donators can search for the organization's food pantries, soup kitchens and senior centers throughout the five boroughs of New York City here. 
Individuals and companies can also launch their own virtual food drive on the site and set a fundraising goal. 
The organization also lists all the ways one can help here. 
Los Angeles: The Los Angeles Regional Food Bank promises on its site that $1 donated equals four meals for those in need. 
The organization lists a schedule of events where donors can give food leading up to Thanksgiving. On Wednesday, a grocery bad of food can be exchanged for free admission to Six Flags Magic Mountain. A full list of events for the coming week can be found here. 
Chicago: The non-profit Greater Chicago Food Depository is accepting Thanksgiving-specific donations on its site here.
Through the entire months of November and December, the organization is running 1 City, 1 Food Drive, its biggest food drive of the year. A list of drop off locations to donate food throughout the city can be found here. 
Austin: The Capital Area Food Bank of Texas is accepting monetary donations on its site. During the holiday season, donations up to $100,000 will be doubled by the Beaumont Foundation, according to the site. 
The non-profit organization encourages online donations and says $1 equals six meals for the needy. 
The site also provides a list of other ways to help including setting up a food drive and volunteering.