Black Friday 2015 Sales Roundup: Updated List of the Best Deals and Discounts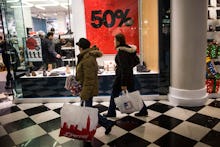 The shopping madness called Black Friday that hits the United States following a national day of thanks is truly intense — people everywhere storm shopping centers in search of the latest designer collaborations and tech gadgets, others plank on top of store products to claim them as their own and multiple victims have literally been killed in Wal-Mart stampedes. Still, it's an annual tradition that attracts thousands, if not millions, of customers from around the country in search of the best Black Friday deals and discounts. 
Among the hundreds of stores participating in the yearly tradition include Wal-Mart, Target, Amazon, Best Buy, Toys "R" Us and several other notable nationwide chains. Their discounts are huge, their selection's diverse: Truly, this is the moment shopping enthusiasts have been waiting for. 
Below are some of the biggest and best deals for Black Friday 2015:
Target: Target is swinging open its doors bright and early this year for Black Friday shoppers, beginning at 6 p.m. on Thanksgiving night. The store will remain throughout the night and into the morning, with deals on everything from electronics to home appliances. The chain is offering a 20% discount to any customers spending at least $75 in a Target store on Black Friday for any future purchases made from Dec. 4 through Dec. 13. 
Kohl's: Kohl's is opening to its customers beginning at 6 p.m. and offering considerable discounts from a number of major brands, including children's retailers Fisher-Price, Playskool, Little Tikes, Barbie, Hot Wheels, Tonka and Play-Doh. A 64-page catalog was released by the department store in anticipation of this year's tradition, featuring exclusive savings on Fitbit wearable (from $149.99 to just $119.99), a 32-inch LED HDTV for less than half it's typical market price at $99.99 and diamond earrings at just a fraction of the normal cost.
Amazon: Those who had one-too-many servings of Thanksgiving day dinner can rest assured they can take part in Black Friday from the comfort of their own homes, thanks to Amazon. The site is offering hundreds of deals, as well as preferential treatment to its loyal customers on the national shopping holiday. Amazon Prime customers, as well as those who use the Amazon app, will be rewarded with "lightning deals" and other discounts exclusively given to the online store's subscribing customers. Amazon also created a "Black Friday Deals Store" which features savings on hundreds of items Amazon customers typically purchase — which, in reality, is just about anything. 
Best Buy: Best Buy is offering a unique approach to Black Friday with somewhat of a pregame to the official event which falls on Nov. 27 this year. The electronics chain will open its doors on Thanksgiving at 5 p.m. through 1 a.m. The store will then reopen at 8 a.m. on Friday and remain open until 10 p.m. Best Buy's online site shows savings of up to $500 on HD 4K smart TVs, and discounts on a number of devices, appliances and other electronics.
Wal-Mart: Wal-Mart is offering a slew of savings on Black Friday and is even allowing customers to seamlessly integrate their shopping with a new app. The retail corporation also created a specific section of its site where customers can see the hundreds of products on sale Black Friday. The chain's app provides customers maps to their local Wal-Marts, as well as a 1-hour guarantee on all purchases. If a product flies off the shelves on Black Friday, customers can purchase the product through the app, and it will be delivered to their local store by Dec. 24.