Students at Kansas University Want a Professor Fired for Using the N-Word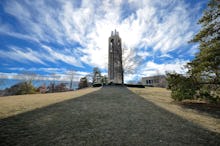 Over the past few weeks, officials at colleges across the country have been facing pressure or have been ousted from their positions over claims of racial hostility and paying inadequate attention to diversity on campus. Now a professor at the University of Kansas is facing potential termination over allegations of racial insensitivity in the classroom — and students leading the charge say her speech isn't protected by the First Amendment.
A group of graduate students at the University of Kansas have filed a discrimination complaint against assistant communications professor Andrea Quenette for her use of the word "nigger" during a classroom discussion, and have organized a social media campaign calling for her for termination at the college. She is currently on leave — of her own volition — pending a university investigation, according to Inside Higher Ed.
What happened: According to an open letter published by students from Quenette's class, the incident in question occurred after a student started a conversation about race and discrimination on campus. Quenette "interjected with deeply disturbing remarks" that began "with her admitted lack of knowledge of how to talk about racism with her students because she is white," according to the students. They wrote that the offending line came when Quenette said, "As a white woman I just never have seen the racism ... It's not like I see 'nigger' spray-painted on walls."
The authors of the letter said her use of the word "nigger" was "inhospitable, anti-Black and unacceptable," and "creates a model for teaching that is based on discrimination and outright oppression." They also said the use of the word "prohibits the creation of an inclusive and tolerant culture within the department." 
Quenette told Inside Higher Ed that she used the word, but, according to the site, "did so in comparing the University of Kansas to the University of Missouri, where many students reported seeing and hearing the word — and citing that as an example of the discrimination they face. Quenette stressed that she never directed the word at anyone and used it as an example of a slur, not to hurt anyone."
Another major contention in the students' letter is that Quenette attributed lower graduation rates among black students to low student performance. 
"After Ph.D. student Ian Beier presented strong evidence about low retention and graduation rates among black students as being related to racism and a lack of institutional support, Dr. Quenette responded with, 'Those students are not leaving school because they are physically threatened every day but because of academic performance,'" the letter said. 
The authors of the letter said that her comment was "uncomfortable, unhelpful and blatantly discriminatory."
The First Amendment issue: The most notable part of the letter, and what may lead it to become a key turning point in the ongoing debate across college campuses over regulating speech, is that the students argue that the professor is not only violating university policy prohibiting harassment, but her speech also falls outside the bounds of constitutionally-protected free speech.  
The argument they present is "not a frivolous constitutional argument," according to Ian Milhisser at ThinkProgress, who wrote that the letter could "trigger federal litigation, the outcome of which is far from certain." Why? It's a landmine area of First Amendment law.
Employees or private companies and organizations essentially have no First Amendment rights at work — a worker can generally be fired for what they say (or for almost any reason, assuming it doesn't violate an explicit contract). But with public employees — like those employed by the University of Kansas — it's a bit more complicated, since when they get disciplined or fired, it's an action by the state. As ThinkProgress notes, the 2006 Supreme Court ruling in Garcetti v. Ceballos, which the students cite in their letter, basically said that when public employees are speaking pursuant to their job duties, they aren't protected by the First Amendment and can be fired or disciplined for that speech. But Garcetti also leaves open the possibility that academic instruction may enjoy additional First Amendment protections still.
So read literally, Garcetti undermines academic freedom. But that's in tension with common sense about free speech in America and major court decisions that afford special First Amendment protection to academic speech.
Michigan law professor Sam Bagenstos, a former senior civil rights lawyer in the Justice Department under President Barack Obama, tweeted on Monday that he believes the allegations against Quenette don't appear to meet the threshold for harassment:
Bagenstos went on to tweet that it seems possible that the professor isn't a good teacher, but that doesn't mean she was harassing them:
That observation seems to get at the heart of how this scenario could create a dangerous precedent in college life. If Quenette wasn't doing her job competently by conventional measures, such as lack of preparedness for class, then her firing would be uncontroversial. But in today's political climate, judgment of her competence seems to include a new set of criteria — not offending students and not making them feel excluded. On one hand, virtually any job requires someone to contribute to social harmony within their institution. On the other hand, a professor's job requires them to allow for, if not actively create, moments of discomfort in the spirit of truly free inquiry.   
Regardless of formal constitutional protections, these moments should give pause to activists and raise questions about the potential costs of insisting on comfort.