Rihanna 'ANTI' 2015: Latest Release Date Info, Tour and Tracklist for New Album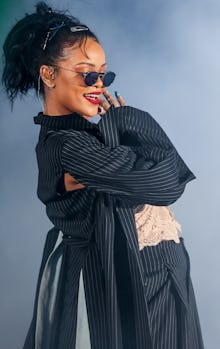 After previewing the transcendent artwork for her upcoming album ANTI in an exclusive Los Angeles art show in October, rumors suggest the album could drop on Black Friday exclusively on Jay-Z's streaming service Tidal before its official release on Dec. 4. 
Though unconfirmed, Hits Daily Double reported it has learned from "sources" that the album, Rhi's eighth studio LP, will be available to stream on Tidal Friday and be officially released for retail on Dec. 4. The artist also announced an upcoming tour to promote ANTI via Twitter on Monday. 
The #ANTIWorldTour kicks off in February and will hit the United States and Europe. Rhi Rhi also announced that Travis Scott will join her on tour in the U.S. and The Weeknd and Big Sean will join her in Europe. 
ANTI track list: The album's track list is mostly unconfirmed, but Genius listed five possible tracks and one confirmed.
Confirmed tracklist:
1. "Bitch Better Have My Money"
Unconfirmed track list:
1. "American Oxygen"
2. "FourFiveSeconds"
3. "James Joint"
4. "Higher"
5. "A Night"
At an October gallery event she hosted in Los Angeles, Rihanna teased what she said is her "favorite album cover yet" for ANTI as well as other artwork for the album. The art is laid over braille poems, which Rihanna said at the event symbolizes that "people who have sight are sometimes the people who are blindest." ANTI will be the artist's first album in three years, which her pal Jay-Z told Vanity Fair in October is because "she wants it to be perfect."