Nazi Symbols Covering NYC Subway Train Cause Furor on Social Media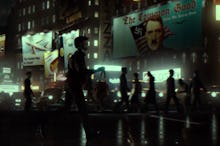 Amazon turned the S train into the SS train, and some straphangers are pissed.
The Man in the High Castle, an Amazon-produced show set in an alternate reality — the Axis won World War II and rules most of the United States — launched its first season Nov. 20.
As part of the promotional campaign for the Web-only program, Amazon decorated the 42nd Street shuttle running between Times Square and Grand Central with Nazi regalia. Train seats on one side of the subway car featured the stylized fascist version of the Reichsadler (Imperial Eagle) prominently used in Hitler-era Germany, albeit with the swastika replaced by an Iron Cross. On the other side, the Rising Sun Flag, often associated with Japanese military forces during the same period, was displayed.
After complaints were aired, BuzzFeed News reports, the campaign was pulled.
Versions of the Rising Sun Flag are still in use by Japan's self-defense forces, but the flag is considered especially offensive to many in Korea and China, where it is associated with vicious Japanese imperialism dating back to the 1800s.
The Reichsadler, for its part, would probably be illegal in Germany, where many Nazi symbols are banned.
New York City happens to have the largest Jewish population in the entire United States. A recent survey for the Public Religion Research Institute concluded 8% of New Yorkers are Jewish.
The ads are certainly jarring, more so because many subway riders are likely unaware of the show's existence at all. That's probably the point. The Man in the High Castle is not subtle about its alternate, Nazi-run reality, where police wear swastika armbands and forced euthanasia is just a thing authorities do on Tuesdays.