Millennials are More Likely Than Previous Generations to Approve Government Censorship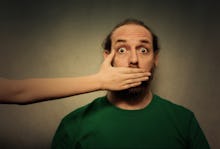 If you don't have anything nice to say, don't say anything at all. 
Many millennials, defined as those within the 18-to-34 age bracket, apparently took their parents' quintessential childhood advice to heart, a new Pew Research Center poll shows — 40% of them, to be exact. 
In a poll published Friday, respondents including millennials and the three preceding generations were asked if they believed it was permissible for the government to limit people saying things which are offensive or harmful to minorities. 
"Four in 10 millennials say the government should be able to prevent people publicly making statements that are offensive to minority groups, while 58% said such speech is OK," Pew's Jacob Poushter wrote.
However, only about a quarter of Generation X (ages 35 to 50) and Baby Boomer (51 to 69) respondents felt similarly about government restrictions on offensive speech. Roughly 12% of the (perhaps appropriately named) Silent Generation (70 to 87) were in favor of limiting such speech. 
The study also found Democrats were almost twice as likely to support limiting such speech than Republicans, and that the likelihood a respondent would support government-enforced censorship negatively correlated with higher levels of education. Around a third of those whose education levels included "high school or less" supported government-enforced limitations on speech offensive to minorities, while only 22% of those with a "college degree or more" supported the idea. 
The evidence abounds on college campuses. Lately, a passionate debate regarding the limits of free speech — or whether there should be restrictions at all — has waged across American university campuses. Examples of students attempting to limit free speech span the ideological spectrum, with factions from the far-right and far-left calling for censorship, motivated by an array of reasons. 
The prevailing reason is that fine line between expressing oneself freely and maintaining a sensitivity toward others, prompting the question: When the two come to a head, which one deserves to be protected?
Yale became one such battleground in recent weeks, when the school's Intercultural Affairs Committee sent a university-wide email discouraging students from wearing racially or culturally insensitive costumes on Halloween. The email elicited a response from some faculty counseling against guiding student expression, which in turn was followed by high-profile debates and protests on how to balance expression and multiculturalism.
Then, on Nov. 17, Yale President Peter Salovey sent an email to the university addressing what had unfolded. 
"Yale's long history, even in these past two weeks, has shown a steadfast devotion to full freedom of expression," Salovey wrote. "No one has been silenced or punished for speaking their minds, nor will they be. This freedom, which is the bedrock of education, equips us with the fullness of mind to pursue our shared goal of creating a more inclusive community."
Wesleyan University had a comparable clash when students formally petitioned for the boycott of the school newspaper, the Wesleyan Argus, in September, after it published an op-ed critical of the Black Lives Matter movement, entitled "Why Black Lives Matter Isn't What You Think."
"The undersigned agree to boycott the Argus, recognizing that the paper has historically failed to be an inclusive representation of the voices of the student body," the petition reads. "Most specifically, it neglects to provide a safe space for the voices of students of color and we are doubtful that it will in the future."
Students who have voiced their support for Palestine at universities across the country have met a similar fate, with backlash from pro-Israel supporters.
While the struggle over free speech on campus has seemed to gain steam in recent months, the fight isn't necessarily a new one. In September 2014, Ohio University student senate president Megan Marzec posted a protest video on encouraging the college to divest itself of companies and institutions affiliated with Israel because of the 2014 "genocide in Gaza and the occupation of Palestine by the Israeli state," Marzec told Mic. 
"Students immediately began messaging me via Facebook, asking me to step down, calling Israel 'the only civilized country in the Middle East,'" Marzec said. Rape and death threats followed; she recalls one incident in which a fellow student approached her in a restaurant and declared: "I would gladly shoot you in the face and go to jail defending Israel."
On Friday, a University of Kansas professor was put on administrative leave after students protested her use of "nigger" during a graduate class discussion on racism.
Given the consequences of speaking one's mind on college campuses, it would seem that the limiting of speech deemed "offensive" is more than a peripheral issue affecting one generation alone: It's an issue that may very well establish a code of conduct across higher education institutions.