Five Shot at Black Lives Matter Encampment in Minneapolis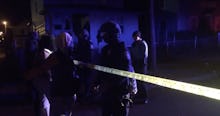 Five protesters affiliated with the Black Lives Matter movement were injured Monday night after an encampment they had set up in Minneapolis came under fire from multiple gunmen. According to the Washington Post, the protesters were treated at area hospitals. Their wounds were classified as non-life-threatening, according to the Minneapolis Police Department.
"Dozens of officers responded almost immediately attending to victims and secured the scene," police said in a statement. "Additional resources were called in and are actively investigating the shootings, interviewing a multitude of witnesses." 
The Star Tribune reports that two of the three white male suspects have been arrested
Protesters, however, took issue with police response with one saying it took "15 to 20 minutes" for them to arrive, while another noted the official response included an abundance of squad cars before an ambulance appeared on the scene. Another witness was reportedly Maced for recording the incident. 
The protesters had been encamped near the Minneapolis Police Department's 4th Precinct for more than a week to demonstrate against the killing of 24-year-old Jamar Clark, an unarmed black man who was killed by Minneapolis police Nov. 15. 
According to an eyewitness on the scene Monday, the men, all wearing masks, descended on the encampment looking to make trouble. They were "yelling and being aggressive," one witness told NBC News. "It was obvious they were here to antagonize and confront people."
The Minneapolis chapter of the Black Lives Matter movement described the attackers as white supremacists, though police spokesman John Elder told NBC News it was "way too early" in the investigation for authorities to be able to comment on the motivations of the attackers.
This story is developing. 
Catch up on the news that matters in 5 minutes or less by signing up for our daily email news briefing.