Turkey Shoots Down Russian Warplane in Syria, Russia Issues Response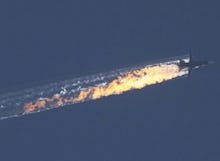 Russia said Tuesday one of its military aircrafts was operating within Syrian-controlled airspace when it was shot down by ground forces by the Turkish military, causing both pilots to eject from the plane before it crashed into the Turkish-Syrian border. Turkey, however, says it warned Russian military officials 10 times in the course of five minutes before Turkish F-16 fighter jets opened fire on the plane, according to the BBC.
The Russian defense ministry said the plane in question was a Russian SU-24 fighter jet that "crashed on Syrian territory, having been hit from the ground," according to the BBC. "Efforts are being made to ascertain what happened to the pilots. According to preliminary reports, the pilots have managed to self-eject."
"We warned them to avoid entering Turkish airspace before they did, and we warned them many times," a senior Turkish official told Reuters. "Our findings show clearly that Turkish airspace was violated multiple times. And they violated it knowingly." 
"We understand that everyone has their own interests but we won't allow such crimes to take place," Russian President Vladimir Putin said Tuesday, vowing retaliation for the incident, Bloomberg reported. "We received a stab in the back from accomplices of terrorism."
In a statement, Turkey announced a scheduled a conference with the 28 NATO member states for Tuesday in Brussels following the plane crash, Bloomberg reports.
The incident raises concerns over heightened tensions between the Cold War enemies; the last time Russian or Soviet aircraft has been shot down by a military from a member of NATO was in 1950s, at the height of the Cold War, Reuters reported.
As the Russian pilots parachuted to the ground, one was said to be shot and another may have been found by a Syrian rebel group called the 10th Coast Division, according to the Associated Press. In the video, one man can reportedly be heard saying, "Allahu Akbar" or "God is great."
Correction: Nov. 24, 2015