Rihanna 'ANTI' Tour 2016: Dates, Cities, Presale Info and How to Buy Tickets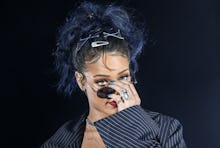 On Monday, Barbadian megastar musician Rihanna announced her upcoming concert series, the ANTI World Tour, which kicks off in February. For shows in the United States, Rihanna will perform alongside American rapper Travis Scott, while Canadian powerhouse singer The Weeknd and Detroit, Michigan's Big Sean will join her onstage for shows in Europe. Concert ticket sales begin on Dec. 3, and purchasing is available via TicketMaster. 
Facing the release of her eighth studio album, and the artist's first full-length LP since 2012, Rihanna has said she is more confident than ever before. "I used to feel unsafe right in the moment of an accomplishment — I felt the ground fall from under my feet because this could be the end," Rihanna said in an Oct. 12 interview with the New York Times Magazine. "And even now, while everyone is celebrating, I'm on to the next thing. I don't want to get lost in this big cushion of success.''
Here's the album art for ANTI, which the musician announced via Instagram:
According to the artist's website, the first of many performances begins on Feb. 26, 2016 in San Diego, California. Here's an exhaustive list of tour dates, a schedule that will put Rihanna before audiences in numerous cities around the world. On June 11, 2016, the musician will hop the pond to begin her European tour, a series that starts with a concert in Amsterdam. 
Rihanna's forthcoming LP, ANTI, is reportedly scheduled for release on Dec. 4, however the artist has not confirmed the date. The rumor mill has been churning and it's possible the musician will sneak release her album via Tidal on Black Friday. Though an official track list has yet to be announced, Rolling Stone reported that the artist has released three singles in the past year alone: "FourFiveSeconds," "American Oxygen" and the chart topping cut, "Bitch Better Have My Money." 
While fans wait for more news on possible presale dates, here's Rihanna's colorful visual accompaniment to one of her most recent, and best-loved, singles.