Killer Mike Delivers a Powerful Speech Introducing Bernie Sanders at Fundraising Event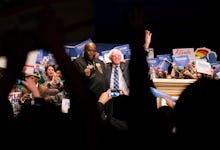 Sporting his signature Run the Jewels sweatshirt, rapper Michael Render aka Killer Mike looked out of place when he took the stage Monday to introduce Bernie Sanders at a political rally in Atlanta. Ideologically too he seemed an odd choice to kick off the event. Render has been long engaged in politics throughout his long recording career, but has been eminently critical of most of its politicians. He acknowledged that fact in his speech, and it only lent his words more power.
"I have said in many a rap, I don't trust the church or the government, a Democrat, Republican, a pope, a bishop or those other men," Render said, quoting his 2012 song "Untitled." "But after spending five hours tonight ... with someone who has spent the last 50 years radically fighting for your rights and mine, I can tell you that I am very proud tonight to announce the next president of the United States, Sen. Bernie Sanders."
Render's speech was filled with incisive gems. Judging by the ecstatic reaction of the crowd, he turned the Bern up to an absolute inferno.
Render hit on some of the major facets of Sanders' campaign. "I believe it because he, unlike any other candidate, said 'I want to restore the Voting Rights Act,'" he said. "He, unlike any other candidate, said 'I wish to end this illegal war on drugs that disproportionately targets minorities and poor.' Unlike any other candidate in my life, he says that education should be free for every citizen of this country."
Render has explored these maladies in his own works as well. He has preached the virtues of educated and informed populous in many of his written works, including his recent op-eds discussing the issues of Ferguson, Missouri, and Baltimore and the legacy of Martin Luther King Jr. Render described the farcical and inherently racial nature of the ongoing war on drugs in his 2012 track, "Reagan": "They declared the war on drugs like a war on terror/ But what it really did was let the police terrorize whoever/ But mostly black boys, but they would call us 'niggers.'"
"I have no time in my short 40 years on this Earth to relive the Reagan years. I have no desire to see us elect our own Margaret Thatcher," Render told the audience, slyly characterizing the other candidates. "In my heart of hearts, I truly believe that Sen. Bernie Sanders is the right man to lead this country."
"Stay encouraged. Stay invigorated. Stay bold. Stay confronting bullshit wherever you go," Render said. "Make sure wherever you go, you take the name, the idea, the philosophy, the ideology of Bernie Sanders."
Render had an especially good opportunity to learn Sanders' ideas and philosophies during their "five-hour" hangout earlier in the day, when Render took him to the Busy Bee restaurant in Atlanta for Southern cooking.
The two of truly do make a hell of tag team.
Watch Render's full speech below.