2016 Presidential Poll Results: Ted Cruz Passes Ben Carson in Latest Iowa Poll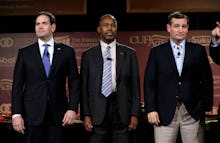 With just over two months until the Iowa caucus in February, the latest Iowa poll from Quinnipiac University shows Texas Sen. Ted Cruz is Republican presidential front-runner Donald Trump's new challenger in the key primary election state, beating out former neurosurgeon Ben Carson for the first time.
"Last month, we said it was Dr. Ben Carson's turn in the spotlight," Peter A. Brown, assistant director of the poll, said in a statement released Tuesday. "Today, the spotlight turns to Sen. Ted Cruz of Texas. The Iowa Republican Caucus has become a two-tiered contest: Businessman Donald Trump and neurosurgeon Ben Carson lead on the outsider track, and Sens. Ted Cruz and Marco Rubio lead among party insiders."
Trump remains the front-runner in the poll released Tuesday with 25% voter support, while Cruz is in second place with 23% voter support — two times his polling numbers just weeks ago, CNN reported. Carson now lags behind in third at 18%, an 11% drop from his 29% peak less than a month ago when he was the top-polling candidate in an NBC/Wall Street Journal national poll. Florida Sen. Marco Rubio falls behind Carson at 13%.
The rest of the candidates didn't make double digits — Kentucky Sen. Rand Paul and former Florida Gov. Jeb Bush both polled at 5%, and former Hewlett-Packard CEO Carly Fiorina polled at 3%.
"Worth remembering, however, is that winning Iowa is no guarantee of success elsewhere," Brown said in the statement. "Former Arkansas Gov. Mike Huckabee won the 2008 caucus and former Sen. Rick Santorum took the 2012 crown, yet both were quickly gone from those nomination fights as the primary calendar moved to larger states."
A Nov. 3 poll conducted by NBC and the Wall Street Journal showed Carson polling at 29%, the highest a GOP candidate has polled thus far in the primary election, while Trump trailed at 23%, Rubio at 11% and Cruz in fourth at 10%.