Model Pushes Back Against Industry That Told Her "We Want You Down to the Bone"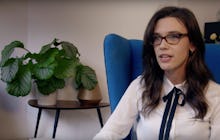 It's no secret that the modeling industry has a size problem, and Aussie model Rosie Nelson is sick of it. 
When Nelson first got into modeling at age 21, she knew that there'd be expectations. She knew that she'd have to stay in tip-top shape and live healthily. 
What she didn't expect is for an agency to tell her, "We want you down to the bone." 
Nelson relays her story in a new video interview with i-D magazine, part of a series called "Size Matters." The 23-year-old model, who's appeared in the likes of Vogue Australia and plenty of clothing ads, talks about the industry's harmful weight standards for young female models. She notes that an agency told her to get "down to the bone."
"My [body mass index] is probably 17, which is underweight," she says. "I was told I was too big for any of the big agencies, which was quite shocking."
When she first expressed interest in the industry, she was immediately shut out of several agencies or told to get her measurements down. She was even told she was too old for them. "I was 21 at the time," she says. 
So to make sure that girls never have to hear those words again, Nelson sprung into action. In September, she created a Change.org petition advocating for a law to protect models from getting dangerously skinny.
Nelson calls on the British government to consider "the possibility of legislating to ensure models are of a healthy weight," citing a recently passed law in France that tracks models' BMIs. 
She seems to be making progress. More than 93,000 people have signed her petition, and it's gained interest from the U.K. government, particularly Caroline Nokes MP, who is the chair of the All Party Parliamentary Group on Body Image. Nokes is launching an inquiry for the government to look into ensuring models are at a healthy weight.
"Legislation should be a last resort, but I'm conscious the fashion industry isn't responding to calls for change," Nokes told the Guardian in September. "We would prefer a code of conduct, if we could feel confident it would be adhered to."
Nelson also notes in the petition that it's the model agency's responsibility to recruit healthy-looking girls, and let them continue to be healthy and fit women. 
Nelson's statements join a chorus of other models who have been outspoken about the industry's peculiar standards. Models either have to be super thin or plus-size to get booked. "Women can't look like women, it has to be one extreme or the other," Nelson says in the video. 
"Plus-size" model Katie Willcox echoed that statement in October, saying that agencies wouldn't book her as a size 10, telling her that she'd be a far more successful model as a size 14. Needless to say, the separation between thin models and "plus" models is an industry standard that's led to unhealthy eating behavior. 
For what it's worth, Nelson writes that in rejecting the agencies that tried to make her smaller, she's come out stronger. 
"When I look in the mirror I see someone that is healthy and comfortable in their skin," she writes. "That's because I had the guts to carve out my own path and refuse to let people pressure me into losing more and more weight."
Watch i-D's entire video below: