Thanksgiving Travel Forecast 2015: Latest on Airport Delays and Weather Conditions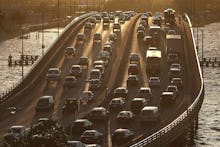 An estimated 46.9 million Americans will travel at least 50 miles this Thanksgiving season, according to AAA, which is a 300,000-person jump on those who journeyed to celebrate the holiday last year. Encouraged in part by low gas prices this year, which Time reported are the lowest they've been since 2008, the vast majority of Americans will drive to their destinations this year. And while some regions can expect mild weather conditions this holiday season, rain and snow in other parts of the country may cause delays for travelers on the roads or in the air. 
Travelers on the East Coast are unlikely to encounter any weather that may impact travel, while conditions will worsen moving from East to West across the country, according to AccuWeather.
In the Midwest, heavy rains are expected with a possibility of snow after lake-effect snows stirred up wintry conditions during the weekend. Cold spells on the West Coast are expected to cause snowfall in the Pacific Northwest, which could affect landlocked states as well, including Idaho, Montana, Nevada, Utah and Wyoming, the Weather Channel reports. 
The day before Thanksgiving: The airports in those regions most likely to see delays due to weather conditions Wednesday are Dallas Love Field, Dallas-Fort Worth International Airport, Austin-Bergstrom International Airport, Minneapolis-Saint Paul International Airport and Kansas City International Airport. Rain might also impact travel schedules for passengers flying to or from Salt Lake City, while low clouds and possible fog may stall travelers in San Antonio. According to the Weather Channel, highways in northern California and Washington state could be slick with snow and ice, as might interstates in Nevada, upstate California, Oregon and Montana. 
Thanksgiving Day: Conditions will worsen for travelers in the Midwest on Thanksgiving Day, according to the Weather Channel. Snow, rain and cold temperatures are predicted to hit Michigan's Upper Peninsula, Minnesota, Wisconsin, South Dakota and Nebraska. Any delays due to weather would likely affect travelers at major airports in the region, including Chicago's O'Hare and Midway, Dallas Love Field, Dallas-Fort Worth, Houston's Bush Intercontinental and Hobby, Kansas City, Milwaukee, St. Louis and Minneapolis-St. Paul. 
Roadways up and down the Midwest may also see delays due to rain and possible snow, the Weather Channel reported, including interstates in Texas, Illinois, Wisconsin, Minnesota, Missouri and Kansas.
Meanwhile, East Coast travelers will see mild weather conditions and warmer temperatures, according to the National Weather Service, with temperatures in the 50- to 60-degree range. For the 7.7% of Americans planning to travel by plane to Thanksgiving destinations, the Federal Aviation Administration's Flight Delay Information Command Center is the best tool to keep track of schedule disruptions. Those traveling by car, particularly in the Midwest and on the West Coast, can check in with the National Weather Service for local reports on roadway conditions.