Here's How Fashion Can Be More Inclusive, According to Trans Model Geena Rocero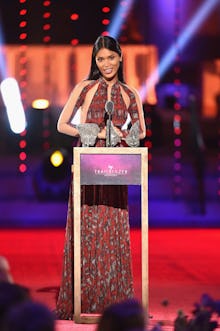 The inner workings of the fashion industry might seem far removed from everyday life, but the images the industry puts out and plasters in our consciousness are inescapable. 
Which is why who's in those images — and who makes those images — really matters. That's what trans model Geena Rocero is advocating for when it comes to transgender rights in the fashion industry. It's not just about hiring trans models; it's about hiring trans people, period and putting them in leadership positions across the board. 
"Hire trans people as casting directors, as editors of magazines, or give us opportunities to curate the editorial coverage," Rocero said in an interview with Elle. "We could actually show those nuances in those stories that need to be told."
It's not a matter of tokenism, Rocero pointed out, but of who is influencing the imagery we see.
"Just imagine for a moment: These creators, trans creators, they are helping to define what is beautiful. They are a certain part of the team that created what covered the magazine or that editorial. They're part of that beauty and that process of that."
Right now, it's mainly trans models who've earned attention in fashion. Andreja Pejic, Lea T and Hari Nef have been helping bring more visibility to transgender issues. 
Rocero launched herself into the public eye last year as an advocate for transgender rights. It began with her landmark TED talk, in which she came out publicly as transgender. Since then, she's been an outspoken advocate for transgender issues in fashion.
But there are few trans people working behind the scenes — creating the editorial spreads, styling photo shoots and casting the models. Those people play the largest role in what fashion looks like (and can potentially point out something potentially offensive or ignorant before it makes it to print).
Even as the industry accepts more transgender models, their inclusion can veer into spectacle. At its worst, the industry risks tokenizing trans models or objectifying them. Editorial shoots sometimes call for trans models to expose their bodies, especially their breasts, Nef recently pointed out in an interview with Good. 
"I feel like selling sex permeates all trans women professionals," Nef told Good. "I've been asked to get my tits out on almost every job, including this shoot. People want to see my tits. They want to see my body."
Hiring more working transgender professionals to work behind the scenes would help capture the beauty of all models, trans or not, in a way that sets a stunning example for anyone who picks up a magazine.