'Sanjay's Super Team' Is Going to Be the Best Part of 'The Good Dinosaur' — Here's Why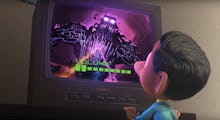 Pixar is known not only for its portfolio of award-winning animated feature-length films but also for the short films it plays before each of its movies. Sanjay's Super Team, the seven-minute digital short that will accompany Pixar's upcoming film A Good Dinosaur upon its Wednesday release, is particularly noteworthy for a couple of reasons — it's the first Pixar digital short to star a non-white lead and encourages kids to be proud of their heritage. 
The short film premiered in June at the International Animation Film Festival in France. Sanjay Patel, Pixar Animation Studios' artist and director of Sanjay's Super Team, based the plot largely on his own childhood when he was ashamed of his Indian heritage in a largely white environment. 
"My parents' whole world revolved around their gods, the Hindu deities," Patel told the Los Angeles Times in April. "Our worlds were diametrically apart. I just wanted my name to be Travis, not Sanjay." 
A story based on real life: The film begins with Sanjay's father pressuring him to participate in Hindu meditation while Sanjay is trying to watch a superhero television show. When Sanjay starts daydreaming about a Hindu version of the characters, he starts to understand and appreciate his own heritage more, a lesson Patel said he had to learn too. 
"It took me a long time to feel safe with my identity," Patel told the Los Angeles Times. But Pixar chief creative officer John Lasseter "felt strongly about celebrating the personal side of the story."
Leena Jayaswal, an associate professor of film and media arts at American University, told the Pacific Standard in an interview published Tuesday that Sanjay's Super Team helps diminish Indian stereotypes. "I want [my son] to be able to say, 'Oh, that's a little brown boy, and I'm half brown,'" she said, adding that she hopes it doesn't solely focus on religion. "I think people associate India just only with Hinduism and so this will maybe not help that stereotype. ... So in some ways I'm excited to see this, but I hope that it doesn't just fulfill the stereotype that Indians are Hindus."
Here's a 30-second clip of Sanjay's Super Team: