'Mockingjay, Part 2' Box Office: Here Are Theories for Disappointing Box Office Numbers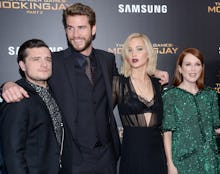 The film series finale of The Hunger Games, The Hunger Games: Mockingjay, Part 2, made a relatively disappointing $101 million during its opening weekend, Forbes reported. While it's hard to imagine any movie that makes upwards of a hundred million dollars in the span of a few days being considered a failure, the earnings were the lowest of any Hunger Games film debut. Theories exist as to why, including a lack of action compared to earlier films in the series, Blockbuster fatigue and that lead actress Jennifer Lawrence "used the film's publicity tour to trash Christians" (per conservative news site Breitbart).
Mockingjay, Part 2 is a continuation of Mockingjay, its predecessor, which grossed $121.9 million during its first week, 17% more than Part 2, upon its debut in 2014. Catching Fire was the highest-grossing of the Hunger Games films, earning $158 million after the first weekend of its 2013 debut. Mockingjay, Part 2's weak earnings even fell short of Liongate's conservative $110 million prediction, Vanity Fair reports. 
Forbes film industry reporter Scott Mendelson reported that the downturn proves that mass audiences need "bread and circuses" to keep them hooked. He highlighted that both Mockingjay films didn't include the spectacle Katniss participating in the pre-Hunger Games and Hunger Games competitions. "The final Hunger Games film is not filled with breathless action, a spectacular fight to the finish, and a glorious victory against President Snow," he wrote, adding that "Not only did Mockingjay, Part 1 and Part 2 not offer the razzle-dazzle entertainment of the first two films, but they also denied us the show-stopping action finale many of us (be it as fans of the movies or when originally reading the books) expected."
Vanity Fair's John Lopez theorizes that the box office failure is a result of Blockbuster fatigue — moviegoers are exhausted of the multitude of "must-see" movies. "In the broader box-office ecosystem, you can start to feel the pangs of audience weariness: with the holiday season marching an endless parade of mega-films before us, each successive event feels just a little less event-worthy," Lopez reports. "First, Spectre slightly underperformed; now Katniss misses her bull's-eye. And that's to say nothing of all the mid-range, high-minded Oscar fodder that's stumbled at the box office."
In a bold assumption, Breitbart's John Nolte asserted in a report that Mockingjay, Part 2 was weak at the box office because of star Jennifer Lawrence's alleged behavior while promoting the movie. He postulated that "could it be that star Jennifer Lawrence using the Hunger Games publicity tour to reveal herself as a spoiled, nasty, bigoted whiner damaged her image — and by extension the film? Overnight, Lawrence seemed to go from a young, beautiful, approachable star to just another Hollywood A-list jerk." Nolte also cited Lawrence's argument to "rape-hoaxer Lena Dunham" that she makes less than her co-workers, referring to a highly publicized open letter Lawrence wrote for Lena Dunham's newsletter Lenny in October about the gender pay gap in Hollywood.