9 Goddamn Inspiring Adele Quotes We Want to Tape Directly on Our Mirrors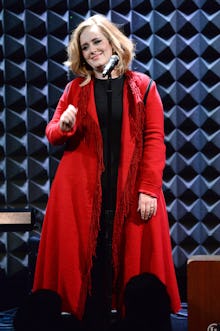 Ever since 25 debuted to hysteria and euphoria on Nov. 20, Adele has been rocking it. In every interview she makes us laugh. In every song she makes us cry. In every breath she takes, we... freak out, basically. 
That's mostly because in every instance that she can, the 27-year-old singer conveys total confidence, appearing to feel as awesome about herself as we'd like to feel every day. She's been known to unapologetically call herself "ballsy" before letting out an extraordinary cackle, and she doesn't mind taking on any and all body-shamers in that cute little Cockney accent.
And what Adele actually says? Well, those are empowering words of wisdom, ones we could use her to whisper in our ears every time we look in the mirror. So we've kindly illustrated them for you, and ourselves. 
Although really, we feel like we don't even deserve her.
"I'm ballsy. I have guts and I'm not afraid of anyone, and I think that makes me feel powerful," said Adele to Vogue, in February 2012. "The only person I'm afraid of is myself."  We're afraid for you, Adele — afraid that the world won't know what to do with such a badass woman.
"There's only one of you, so why would you want to look like everyone else? Why would you want to have the same hairstyle as everyone else and have the same opinions as everybody else?" Adele asked during a Sirius XM interview this month. Now that she mentions it, we're wondering the same thing.
"I've never seen magazine covers and seen music videos and been like, 'I need to look like that if I want to be a success,'" she said in a 60 Minutes interview back in February 2012. "Never — I don't want to be some skinny mini with my tits out. I really don't want to do it. And I don't want people confusing what it is that I'm about." Preach.
"It sounds obvious, but I think you only learn to love again when you fall in love again," she told the Guardian this month in reference to her beau Simon Konecki, all while shattering our delicate hearts. 
"My life is full of drama, and I don't have time to worry about something as petty as what I look like," she admitted to Rolling Stone in April 2011, adding, "I don't like going to the gym. I like eating fine foods and drinking nice wine. Even if I had a really good figure, I don't think I'd get my tits and ass out for no one." Same, girl. Same. 
"There's bigger issues going on in the world than how I might feel about myself," she told Sirius XM this month, therefore affirming what our mothers have subtly mentioned to us over the years, but we'd rather hear from Adele.
"No matter what you look like, the key is to first of all be happy with yourself," she summarized in her February 2012 60 Minutes interview. We can't argue with that.
Imparting wisdom in a way we never would have worded it ourselves, Adele told i-D magazine in the November 2015 issue, "Life is so much easier when you don't hoard your past." 
"I don't think sadness is always devastating," the wise one said on Today on Wednesday. "It can be quite uplifting and joyful as well. Sometimes you have to allow yourself to be sad in order to move forward."
You're the best, Adele. Never leave us (or our mirrors).