Independent Spirit Awards 2016 Nominees Were Announced — Here's the Full List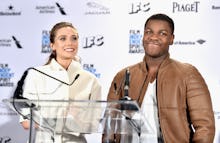 At a press conference in Hollywood on Tuesday, British actor John Boyega and American actress Elizabeth Olsen announced the nominees for the 2016 Film Independent Spirt Awards, which will take place on Feb. 27 at 5 p.m. Eastern, aired exclusively by AMC Networks affiliate the Independent Film Channel. Film Independent is a nonprofit arts organization focused on recognizing independent filmmakers and actors, and this year marks the 31st installment of the Spirit Awards. 
Anomalisa, Beasts of No Nation, Carol, Spotlight and Tangerine have all been nominated for perhaps the most coveted award of the lot: Best Feature. 
"This year's nominees are a testament to the strength, vitality and diversity of independent, artist-driven filmmaking," said Film Independent President Josh Welsh in a Tuesday press release. "It's an astonishingly strong group of films and performances this year and we look forward to celebrating them all at the Spirit Awards."
For a full list of nominees, here's a link detailing the potential award winners in each category. 
Awards will be given to artists for Best Feature, Best First Feature, Best First Screenplay, Best Director, Best Screenplay, Best Male Lead, Best Female Lead, Best Cinematography, Best International Film and Best Documentary, to name a few. 
On Nov. 10, Welsh named Jessica Chastain as Honorary Chair for the 2016 awards. Chastain, a former Spirt Award nominee, is an American actress whose most recent appearances include roles in The Martian, A Most Violent Year, Interstellar and Tree of Life.
"We're so honored to have Jessica as our Honorary Chair at this year's Spirit Awards," Welsh in a press release. "As a past Spirit Award nominee and someone whose work as an actor and producer embodies the qualities we celebrate at Film Independent, I can't think of a more suitable Honorary Chair for this exciting celebration of artist-driven filmmaking."
Correction: Nov. 24, 2015