Adele '25' Album Sales Shatter US Record. Here's How Many Albums Have Sold So Far.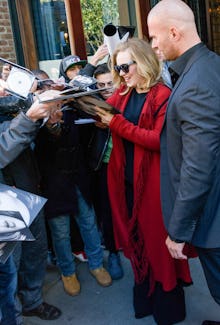 It's official: Adele is pop divinity. On Tuesday, Billboard and Nielsen Music confirmed Adele's 25 has officially broken the all-time first-week sales record, previously set by NSYNC's No Strings Attached in 2000. Many music critics had forecasted it, but few could have predicted it happening so soon. 
NSYNC's previous record stood at 2,416,000 over the course of a week. Monday's tallies show that Adele has already sold at least 2,433,000, according to Billboard.
Those numbers are likely climb even higher. Adele still has three whole days of sales to tally and thousands more "Hello"s to shout to the world.
The highly anticipated 25 debuted to mixed but mostly positive reviews last week. However, no mediocre review claiming Adele only "retreads the same paths and explores the same tones," as the Quietus wrote, was ever going to stand between fans and their queen. 
If anything, her music's familiarity and simplicity likely drew audiences even deeper into the album than had the album sought to follow pop's current saturated, production-driven trends.
Not the first shattered record: This isn't the only recent record Adele's music has broken. The album's first single, "Hello," broke a Vevo record for most views in a 24-hour period and became the first single to sell a million downloads in a single week. Monday, Adele also broke Beyoncé's iTunes record for fastest-selling album, moving 900,000 album downloads on the first day of her release.
Not permitting Spotify or Apple Music to stream her music likely helped Adele drive up her sales to a great degree. Taylor Swift did the same with her 1989 last year, earning herself one of the only platinum albums of 2014. 
However, it's not a strategy every artist can afford in today's highly competitive environment. Simply withholding an album from streaming services is no way a guarantee a record-breaking run. Adele can, because she has a huge promotional apparatus and a team of the greatest songwriters in her back pocket. Yet even when all the instruments and spectacle fall away, she has one of the most continually heart-stopping voices in pop music. 
This is what really counts in the quest to No. 1.
Correction: Nov. 30, 2015