UPDATE: Tunis Terror Attack on Military Bus Leaves at Least 12 Dead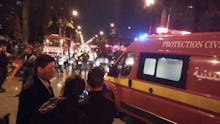 A Tunisian military bus carrying the country's presidential security detail in the capital city was struck by an explosion on Tuesday, according to the BBC. Reuters reported several casualties and the Associated Press confirmed at least 12 deaths, up from earlier reports of six. 
Though it wasn't immediately clear what caused the blast or whether terrorists linked to the Islamic State group, also known as ISIS, were involved, officials later called the explosion in Tunis a "terrorist attack."
According to the office of the interior ministry, officials first believed the blast killed at least six people. 
Immediately after the explosion, several photos were shared on Twitter, while inconsistencies began to surface on the reported death toll. Some users on Twitter, as well as local news outlets and the Independent, reported that at least 11 people were killed by the explosion. 
Frédéric Bobin, a foreign correspondent for Le Monde covering North Africa, was on the ground at the scene of the explosion, and tweeted that Ave Mohamed V was blocked off near the former RCD headquarters. 
"#Tunisia Attentat," Bobin wrote in a post to Twitter, using the French word for attack. "Ambulances and police vans. Safety barriers," he added, in French.
This isn't Tunisia's first brush with terrorists in recent months, according to the BBC. ISIS-organized terror attacks erupted in June at a beach resort in Sousse, which is located nearly 100 miles south of Tunis. 
During the attack in Sousse, 38 people, mainly tourists, were killed. In March, a separate terrorist attack led by ISIS claimed the lives of 21 tourists at a museum in Tunis, according to Today. And on Nov. 17, security forces prevented a second attack in Sousse. 
Following the attack, Tunisia's president declared a "war" on terrorism, according to the AP. 
Nov. 24, 2015, 2:05 p.m. Eastern: This story has been updated.