Obama and Hollande Reiterate Commitment to Fighting ISIS and Ousting Assad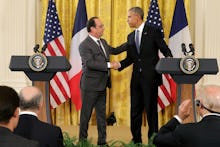 President Barack Obama and French President François Hollande held a joint press conference from the East Room of the White House on Tuesday, less than two weeks after terrorist attacks in Paris left at least 130 dead.   
Obama said the United States and France "stand united in total solidarity" in the fight against the Islamic State group, also known as ISIS, which claimed responsibility for the Paris attacks. France has stepped up airstrikes on ISIS targets in Syria in Iraq in the wake of the attacks.
Hollande said the U.S. and France had agreed to broaden strikes in Iraq and Syria and increase intelligence sharing. He also emphasized the need to close the border between Syria and Turkey, which serves as a major conduit through which foreign fighters reach Syria. Both he and Obama reiterated calls for Syrian President Bashar al-Assad to step down from power and initiate a political transition to put an end to the civil war that has claimed hundreds of thousands of lives and contributed to the worst refugee crisis in Europe since World War II.
The elephant in the room: Obama and Hollande's press conference came just hours after a Russian fighter jet was shot down by Turkish forces over Turkey's border with Syria. U.S. and NATO officials have reportedly determined that the jet entered Turkish airspace before being shot down, although Obama declined to comment on the specifics of the incident. Russia, an ally of Assad, has launched an air campaign, one it says is targeting ISIS forces, but international observers have shown it has largely been directed toward forces opposing Assad.
Obama stated that Turkey has a right to defend itself, but urged all sides to proceed with caution.
Hollande said he will be traveling soon to Moscow to meet with Russian President Vladimir Putin, laying out two preconditions for cooperation between France and Russia in the fight against ISIS. 
Hollande said Putin must agree to the process established in Vienna for a political transition in Syria, and limit airstrikes to ISIS targets in order for the two countries to work together. 
Obama was skeptical about the possibility of Russian cooperation. "The challenge is Russia's focus on propping up Assad rather than fighting ISIL," he said, using an alternate acronym for the Islamic State group. "If their priority is attacking the minority opposition that might be future members of an inclusive Syrian government, Russia is not going to get the support of us or a range of other members of the coalition."
However, Obama didn't rule out the prospect of future collaboration between Russia and other Western powers. 
"I do think there's the possibility of cooperation," he said. "The sooner we agree to this political process, the less likely you have the kinds of events that took place, apparently, today," referring to the downing of the Russian jet.
You can watch Obama and Hollande's press conference here: