What 'Jessica Jones' Teaches Us About Having Sex After Sexual Assault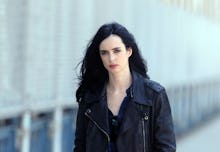 In a world that's still grappling with the distinction between "yes means yes" and "no means no," where an 11-year-old can be blamed for her own gang rape, where it's still technically legal in eight states for a man to rape his wife while she's sleeping, it's an understatement to say that we have trouble talking about sexual assault. We have even more trouble talking about what happens to survivors after sexual assault. 
Little discussion has been devoted to the question of how survivors navigate daily life following their assault, from work to school to dating and, yes, sex. Survivors' sexuality in particular is a subject that is often treated with kid gloves, to the point where to even introduce sex into the narrative is to complicate our understanding of aggressor as aggressor, and victim as victim. As Tracy Clark-Flory wrote last year for Refinery29, "We're too afraid to mention rape and pleasure in the same sentence. But this scared silence only makes it harder for survivors to find their way to sexual satisfaction."
One TV show, however, is addressing this silence head-on. Jessica Jones, Netflix's adaptation of a Marvel comic about the titular misanthropic, hard-drinking superhero (played by Krysten Ritter), has been rightfully praised for its handling of consent and sexual assault, particularly its treatment of Jones' PTSD in the wake of being brutally, serially raped by Kilgrave (David Tennant), a dapper British psychopath with the ability to control of the minds of his victims. 
Yet, what perhaps makes the show so successful and revolutionary is how it handles Jessica's sexuality following her assault. Although both are victims of brutal assault at the hands of a male assailant, Jessica and her best friend Tricia (as played by Rachael Taylor) are aggressively, unapologetically sexual. Considering the typically one-dimensional depictions of assault survivors' sexuality, this is nothing short of revolutionary. (Warning: Spoiler alerts abound.)
Cultural depictions of female sexual assault survivors usually fall into one of two categories: They're either the bearers of permanent sexual scars, unable to let a man come near them without convulsing into paroxysm, or they become compulsively promiscuous, banging the brains out of any man in a misguided attempt to regain control of their own bodies. 
These are both valid, not to mention common, responses to the trauma of sexual assault. According to Linda E. Ledray, author of the book Recovering From Rape, nearly one-fourth of sexual assault survivors "decided to abstain from sex completely" after they were raped. Promiscuity has also been cited as a possible byproduct of childhood sexual trauma.
Yet depictions of sex after trauma on shows like Degrassi and Game of Thrones fail to recognize one thing: Just as there's no such thing as a "perfect" sexual assault victim, there's no perfect way to have sex after experiencing sexual trauma. As Jenny Kutner wrote for Mic, "many rape victims do experience a natural aversion to sex for a time, while others experience exactly the opposite. Some might not feel any change at all ... there is no 'right' or 'wrong.'"
Jessica Jones, which is set a year after Jessica is sexually assaulted repeatedly while controlled by Kilgrave, is subversive in the sense that even though Jessica suffers from PTSD (she's often seen reciting the street names in the neighborhood where she grew up, a tactic taught to her by a psychotherapist), she falls into neither of these two categories. She's unabashedly sexual, lustily fucking her bar owner paramour Luke Cage (Mike Colter). At one point, the two even break the bed with their sexual gymnastics. 
While it's clear fairly early on in the series that Jessica has ulterior motives for becoming acquainted with Cage, having sex with him is not part of the agenda; it's just something she wants to do. Their sex life is deliciously competitive, with the two demonstrating their superpowers by playfully establishing physical dominance over each other. (In yet another example of the Marvel show subverting female sexuality tropes, Jessica wins.)
Jessica and Luke's relationship isn't exactly a paragon of mature adult sexuality, for various reasons: Not only do they have a complicated history, to say the least (unbeknownst to him until later in the series, she killed Cage's wife while under Kilgrave's mind control), but he's too haunted by the death of his wife and she's too screwed-up to forge a committed relationship with anyone. But it's clear that they're not having sex to compensate for a history marred by trauma, sexual or otherwise; while they're both emotionally wounded, they have sex because she's hot and he's hot and they want to.
"Jessica Jones is messy," Taylor told Vulture. "She's not perfect, she's damaged, she's traumatized, she has PTSD, and she still has — like every human being on the planet — these carnal desires that are also not perfect. And I welcome that."
Jessica's best friend Tricia is also an assault survivor who's shown relishing her sexual agency, albeit with a twist. After being attacked by policeman Will Simpson (Wil Traval), who's being mind-controlled by Kilgrave, Trish and Will form a tight bond. (All things considered, it's a pretty quick process, considering he tried to kill her just a few hours before.) They end up having sex in her bed, the camera zooming in on her face while she receives cunnilingus. Later, she's seen on top of Simpson, pushing him down and telling him not to talk, to which he responds, "Whatever you say, boss." 
It's intended as a small, playful moment, but as Susana Polo of Polygon points out, it's significant in terms of the show's treatment of female sexuality. 
"Jessica and Trish are both women who have struggled with emotional and physical abuse — they're women who have had their bodies and abilities used against them by people who held power over them," Polo writes. "Beyond that, their enthusiastic lovers are both men who have pasts in which their capacity for violence — for physically dominating other people — was their primary skill." 
Cage and Simpson are both violent men: Simpson is a former member of military special forces while Luke, like Jessica, is blessed with superhuman strength, which he often uses to his advantage. Yet in bed, they're both accommodating to Jessica and Trish's desires, allowing their dominance to not threaten theirs, all while not treating the women as if they are breakable. It's a powerful statement not only about their masculinity, but about how to treat women whose pasts have been marred by trauma — with respect, but not with deference. 
It's the balance between respecting female desire and not being deferential to it, as well as the acknowledgment that sexual assault can both cause unspeakable trauma and not define the course of the rest of your life, that makes Jessica Jones such a powerful feminist statement. In the end, it's not just about how one flawed woman chooses to fight back against a trauma-marked past — it's about how she chooses to take control of her sexual present.