Macy's Thanksgiving Day Parade 2015 Live Stream: Here's How to Watch NYC Parade Online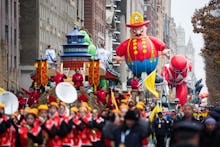 The annual Macy's Thanksgiving Day Parade is set to bring New York City yet another year of musical performances and a medley of colorful floats, including six new ones. Parade attendees are heading to the Big Apple to partake in the festivities, which will air on NBC Thanksgiving morning from 9 a.m. to noon in all time zones. The 2015 Macy's Thanksgiving Day Parade will also stream live on NBC.com and Earthcam.
The parade will convene at Central Park West and and 77th Street and head downtown toward 34th street. It will end at the Macy's in Herald Square.
A star-studded lineup: This year's performers include Hilary Duff, Jordin Sparks, Trey Songz and Train, among others. Marching bands also tend to have explosive performances, and 2015's Macy's Thanksgiving Day Parade will include the New York Police Department Marching Band, the Macy's Great American Marching Band and the University of Virginia Cavalier marching band, among others. Several groups are also set to perform throughout the parade, including the Spirit of America Dance Stars (which has performed in the annual parade for over 25 years), the 610 Stompers, Kruti Dance Academy and J.U.M.P.  The event's site says an estimated 3.5 million people will watch the parade from the streets of New York, and at least another 50 million will watch from home. 
Those who want to watch the parade from the comfort of their own homes can tune in to the live stream on NBC.com or Earthcam beginning at 9 a.m. on Thursday.