American Apparel Black Friday Employee T-Shirts and Buttons Face Huge Criticism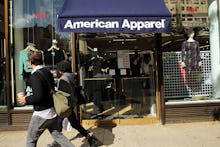 Iconic clothing brand American Apparel is psyched to participate in Black Friday, so much so that executives reportedly encouraged employees to all wear the same T-shirt whose design was provided by the company. One problem — the shirts read, "Ask me to take it all off," which many employees have found offensive. Some say the shirt design made them feel like they were being sexualized to sell a product, according to The Mary Sue.
An alleged recent email sent out to American Apparel employees, shared by The Mary Sue, announced that the company was providing a suggested uniform of buttons and T-shirts. While the uniform isn't required, it's highly recommended per the email. "Shirts are optional, however, employees are highly encouraged to participate," the email read, according to The Mary Sue. The email included a photo of employees form a retail location wearing the shirts. 
An anonymous employee confirmed the email to Jezebel and expressed fear that employees wearing the shirt would be sexually harassed. "Now they are actively encouraging our patrons to sexually harass me and my colleagues, some of whom are as young as 15," the employee told Jezebel. "There's no question in my mind that anyone wearing the shirt will face inappropriate comments from customers."
The employee then highlighted the company's tendency to use sexual innuendos as a marketing tactic. "The company seemed to be moving in a direction with less gross sexual innuendo, but recently I've noticed a lot more sexually explicit shots in some of our visual merchandising props," the source told Jezebel. 
In 2014, the company fired its founder Dov Charney as CEO for an "ongoing investigation into alleged misconduct" including multiple counts of sexual harassment. In February, the company announced that it would do away with its overtly sexual ads. "There's a way to tell our story where it's not offensive," American Apparel's new CEO Paula Schneider told Business of Fashion in a February interview. "It is an edgy brand. And it will continue to be an edgy brand."