These Stores Are Offering Cyber Monday Online Discounts and Free Shipping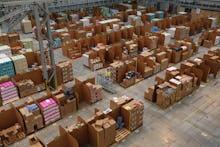 Cyber Monday, historically one of the largest online shopping days in the United States, falls on Nov. 30 this year, and retailers are lining up to lure shoppers away from the competition. While some argue that the online shopping day is lessening in importance, many of America's biggest vendors are beefing up their online discounts and are pushing free shipping offers to the public in order to stand out from rival retailers.
Stores offering free shipping on Cyber Monday: As retailers slash prices, many — including Acer, Aldo, Samsung, Under Armour and Lancôme Paris — are offering Cyber Monday shoppers free shipping. Via CyberMonday.com, here's a full list of free shipping offers and end dates. 
Per CyberMonday.com, plenty of retailers will offer shoppers free shipping around Cyber Monday, but many have chosen to extend that offer for days, sometimes weeks, ahead of and following the online shopping day.
Bear in mind, some retail analysts believe that as vendors stretch discounts beyond two dedicated days of shopping, both Cyber Monday and Black Friday are decreasing in importance. Last year, eMarketer reported that Cyber Monday 2014 was a record-breaking day in terms of digital sales and online traffic in the U.S. However, this year could be a different story.
"I think what you're seeing now is the start or middle of a trend where Black Friday decreases in importance," eMarketer retail analyst Yory Wurmser told Marketplace on Friday. "It's probably still going to be a significant shopping day, but at the same time it's probably going to lose its singular significance in the season."
Time reported that even the name Cyber Monday is nearing a place of irrelevance. Some retailers, like Wal-Mart for example, will begin activating all its Cyber Monday sales on Sunday at 8 p.m. The retail giant is also planning to offer online discounts every day in November, per Time.