11 Black Friday Gifts To Get A Music Fan in an Era Where Nobody Buys Music Anymore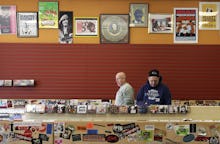 Back in the '90s it was easy. Opening the shrink wrap on a fresh CD was enough of a thrill (if invariably frustrating) to make any holiday gift exchange a magical occasion. One could scroll through a friend or family member's collection, find the vacancies and consider holiday shopping done.
Of course, no one really knows what to do with a CD anymore, much less owns the hardware to play it.
Even Adele's new record-breaking album, in the form of a CD, requires but a single spin on your computer to upload the tracks, and then it's nothing more than a fragile piece of dust-collecting plastic. Vinyl may be in the midst of a resurgence, but with pressing plants struggling to keep up with demand and not every audiophile necessarily falling for the trend, it doesn't present the most reliable gift option either.
People shopping for someone whose one and only love is sweet, sweet music have to get creative. Here are 11 gift ideas to seek out as the holiday season gets underway:
1. DrumPants
As fly as the leather jogging pant may be, if it can't be used to program a fresh beat, it's really not all that. DrumPants are essentially leg-shaped MIDI triggers that can fit over or under one's pants, turning one's body-drumming into a wide array of synthesized sounds. The patterns can be bounced over to just about any audio software to program a full beat.
Where to find: DrumPants, price: $189.99
2. Teenage Engineering Pocket Operator
It may look like the guts of a calculator, but it's actually one of the most impressive pieces of audio equipment on the market right now. Teenage Engineering's Pocket Operator line is a series of pocket-sized drum machines one can use to program looped beats with up to 16 possible hits. It's surprisingly cheap and surprisingly sophisticated with 16 sounds and two parameter controls per sound. It also comes in sub (bass) and factory (lead) synthesizer models.
Where to find: Teenage Engineering, price: $59
3. Guitar Cigar Box
If synthesizers aren't the giftee's thing, go acoustic with a kit to help them make their own 3-string cigar box guitar. It comes with strings, a neck with pre-drilled holes and tuning pegs, mimicking the found objects that these instruments have been assembled with for centuries.
Where to find: Soundbox Guitars, price: $55
4. Hip-Hop Family Tree historical comic books
Starting back with its birth in 1973, Ed Piskor has been working to illustrate the complete history of hip-hop in his Hip-Hop Family Tree comic book series. He's illustrated the birth of the biggest names — Afrika Bambaataa, the Beastie Boys, Run-DMC — labels and radio stations. It comes in a gift set covering the years 1975-1983. It's a natural synthesis, as comic books and hip-hop have always gone hand in hand.
Where to find: Amazon, price: $36.87
5. Speaker showerhead
Why have a waterproof speaker and a shower head when you can have both together? Minimalism is the name of the game. Advertised as "60 angled nozzles deliver[ing] a full-coverage, enveloping spray," the other applications of this technology are gloriously endless. Imagine: speaker faucets, speaker washing machines, speaker toilets. That last one is actually a thing.
Where to find: Kohler, price: $199
6. Mobile Blastmaster
Combining the classic flair of a Radio Flyer with the raw power of the boombox, the Mobile Blastmaster is the ultimate playground party/destruction vehicle. It's even got cup holders, which may be why it's so expensive. Or maybe because it's from Hammacher Schlemmer, the go-to retailer for all things gloriously excessive — and priced to match.
Where to find: Hammacher Schlemmer, price: $4000
7. Mason Jar Speaker and Amplifier
This is not your Amish Uncle Jeremiah's mason jar. It may look fragile, but it can handle the output of an electric guitar or keyboard. Imagine strumming some electric Dylan and hearing it filter out of a Mason jar. You can't get much more Americana than that.
Where to find: Uncommon Goods, price: $65
8. Sound Torch Flaming Bluetooth Speaker
Completely unnecessary, but completely awesome, the Sound Torch Flaming Bluetooth Speaker produces a flame that responds to the fluctuations in the music it plays. It's a more amateur-friendly and likely safer variation on the Pyroboard, which spreads that same technology over a much wider 2D space for a more expressive effect.
Where to find: Sound Torch, price: $199
9.  Major Scale Musical Wine Glasses
Is that friend of yours flat or sharp just about every time he or she tries to make a wine glass hum? Pick up a set of these elegant glasses and that friend will be en route to a Miss Congeniality trophy. Lines mark exactly how full the glass needs to be to hit all the notes in a major scale.
Where to find: Uncommon Goods, price: $240
10. Hip-hop vocabulary poster
Is your favorite rapper smarter than Shakespeare? Let this poster enlighten you. Arranged by Pop Chart Lab, this poster makes art out of data scientist Matt Daniels' "The Largest Vocabulary in Hip-Hop" interactive graphic. It's a cleverly mathematical way to measure the cunning of some of hip-hop's greatest MCs.
Where to find: Pop Chart Lab, price: $29
11. Hotline Bling holiday sweatshirt
Bringing together the inherent cheesiness of the holiday sweater and the highly gifable snazziness of Drake's "Hotline Bling" dance moves, this sweater is a match made in meme heaven. They'll only be available in limited quantities this Black Friday so act fast if you neeeed Draaaake's love.
Where to find: Yetee Mart, price: $25