The 2016 Campaign Merchandise Tells an Important Story About This Year's Candidates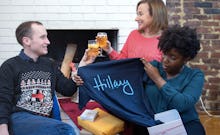 Leading up to Election Day, there are plenty of ways to support a presidential candidate: You can volunteer, make a donation, hang up signs — or, for the brave among us, function as a walking billboard with a candidate's name emblazoned on your chest. 
Candidate merchandise isn't known for being subtle. In fact, it's usually awkward, brash, goofy or downright unstylish. Just look at the merchandise available from some of the 2016 presidential hopefuls:
Notice anything? 
This cycle, plenty of the primary candidates are trying to reach younger and hipper demographics. (Did anyone catch those Ray-Bans peddled — briefly — by Rand Paul?)  But one campaign's merchandise sticks out for, well, not really looking like campaign merchandise. In fact, some of it is pretty damn stylish. 
Hillary Clinton's campaign shop has emerged as an example of how cool the merchandise for a single candidate can be. And it's a clear demonstration of how campaign merchandise speaks volumes about what a candidate is trying to accomplish.
Young, hipster Hillary: Clinton's store doesn't have boxy T-shirts stamped with logos (or sweater vests). Instead, there are gray crewneck sweatshirts, slouchy zip-up hoodies and wool hats stamped with her campaign logo. The baseball hats are either in trendy wool or with a flat brim. For a while, Clinton was peddling a backpack that might as well be made by hipster favorite Herschel. 
When the items are more obviously campaign-oriented, they tend to be tongue in cheek. There's the "Everyday Pantsuit Tee" in red, which pokes fun at her classic uniform. For the LGBT pride collection, there's a bright yellow shirt with the now-viral "Yaaas" across a photo of Clinton. 
Other popular store items also include products with a feminist bent, like a pillow with the words "A woman's place is in the White House," and a framed embroidered piece with a play on "Girls Just Want to Have Fun."
"If a shirt can be delightful and funny as opposed to just any old campaign T-shirt, why not give them that extra experience?" Jenna Lowenstein, deputy digital director for Hillary Clinton's campaign, said to Mic. 
And how the items are Instagrammed? It's downright "like"-worthy.
What campaign merch usually looks like: Needless to say, such attention to trends and a beautifully filtered Instagram presence is a departure for a presidential candidate. American campaign gear tends toward the basic and boring, with ultra-predictable (but always patriotic) red, white and blue items. 
That started to take a turn with the 2008 election when, with the Obama-Biden marketing machine, things got spiffier and trendier. The now-iconic "Hope" poster helped, as did the logo. The "O" logo that looked like a rising sun signaled a break from older designs. Seeing the impact they could have, campaigns started tweaking their designs in the 2012, according to Blue State Digital, the design firm that worked on President Barack Obama's campaign in 2008 and 2012. 
Other campaigns started paying more attention to logos and merchandise as a "moneymaker and relationship builder," Matt Ipcar, executive creative director of Blue State Digital, told Mic via email. "[The Mitt Romney logo] was visible and adaptable and tried to say something more than the names of the candidate in red, white and blue," Ipcar said.
The Clinton campaign has been making ample use of its "H" logo, in a subtler way. When it's used on a tote bag, for instance, the logo is multiplied until dozens of tiny 'H's form a multicolored, abstract pattern. When used on a wool hat, it's done so without any of the typical red, white or blue fanfare. It might as well belong to an urban streetwear company.
If the items in Clinton's shop look slightly more trendy, it's because the campaign wants people to envision themselves wearing the items on an everyday basis. In fact, the models wearing the clothing are mostly campaign staffers. 
"It was definitely intentional that we wanted to broaden the kind of merchandise we offered and make sure it seemed like things people could actually wear going to school, going to work and not just at a campaign rally," Lowenstein said.
"It was definitely intentional ... [to make] things people could actually wear going to school, going to work and not just at a campaign rally." 
The value of all those logo shirts: The Clinton campaign wouldn't disclose sales number for the merchandise to Mic, but similar items have generated solid amounts of revenue for past candidates. Sales from merchandise generated $40 million for Obama in 2008 and $15 million for Mitt Romney in 2012, according to CBS. 
Those sales are essentially campaign donations, with each item functioning as a "'premium' you get in return for your pledge," Vanessa Friedman wrote for the New York Times. The campaigns also mine sales data for information on voter demographics.
"We call it demographic profiling, because voter profiling sounds like a dirty word, but that's what it is," Marshal Cohen, a retail expert at NPD Group, told the Times.
Then there's the value that can't be measured in dollars and cents. For an aspiring presidential candidate, campaign merchandise can work much like a concert or band T-shirt, to stir up enthusiasm between supporters, Marlene Morris Towns, a teaching professor of marketing at Georgetown University's McDonough School of Business, told Mic.
"It's kind of community that starts around a piece of merchandise, but it really transfers over to community in support of that candidate," she said. 
It can also help further a candidate's brand, something crucial for a candidate like Clinton who's been in the public eye for decades yet seems to be constantly reintroducing herself.
"Her merchandise site has the most personality [of the current candidates,] and it's clear that she doesn't take herself too seriously," Towns said. That kind of self-deprecating humor especially resonates with a younger audience, she added. "If it's not made specifically for millennials, I think it's made noteworthy enough to make it to social media."
Being lighthearted isn't something that Clinton is particularly known for, but her campaign has been working on it— and the clothing helps, said Johanna Blakley, the managing director and director of research at the Norman Lear Center at the University of Southern California Annenberg School for Communication and Journalism. The merchandise suggests a personableness Clinton sometimes has a hard time projecting, especially with riskier designs like the "Yaaass" shirt. 
Still, Clinton has a key branding advantage over other candidates: She can own her first name.
"Everybody knows who you're talking about when you say 'Hillary,'" Blakley said. "There's a lot of celebrities who would kill for that."