Adele Performs 'Hello' With Jimmy Fallon and Classroom Instruments — And It's Perfect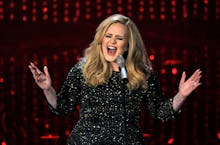 Adele's latest viral video with Jimmy Fallon proves that her voice, and her hit song 'Hello', sounds flawless in just about any situation. If you isolate her vocals from her Nov. 21 SNL performance, you reveal the true power of her voice. Or when Adele joins Fallon and The Roots for a jam session of the hit song with classroom instruments her vocals sound just as incredible.
The segment, taped Monday and aired on Tuesday nights show, features Adele's flawless vocals, a kazoo and even the 'Hello' video trademark flip-phone. The video is just the cherry on top of what is already a banner week for the music superstar. 
Her latest album, '25' set a record for first week sales in the US with numbers hovering around 2.4 million. In an age where monster record sales were thought to be dead, Adele has shattered that perception. Though it would be fair to assume that the fact that she blocked the streaming of her album on Apple Music and Spotify have helped increase the need to purchase her album instead. What is clear is that the power of Adele's voice and her knack for working with the best producers to create hit songs are what make her the biggest star in pop music today. 
Enjoy.